Discover more from Naimish's Personal Blog
Blogging my mind off!
A Week of learning from and gasping at Celebrities || Part - 2
This is a continuation from Part 1, read it first please if you haven't. I insist. Click Here to read Part 1.
Day 4 - MAMI and the Stars
You know when people tell you how 3 is a crowd? Yeah. Well, in my experience, it is a lovely crowd. I am talking about Zoya Akhtar, Shakun Batra, and Richa Chadda. It's a surprise I didn't faint there, may be the big responsibility of being behind camera and making sure Richa's microphone was working all the time kept me awake. Before the shoot I asked Richa, "Hey Richa, could you say something for me on the mic?", this is what I thought I said, actually I said, "Richa, can you say something, want to check the mic". How RUDE!!! of me. She obliged so very kindly and replied, "Hello Hello". I am not capable to have a Poker face, for instance Renil's boss, the head of Firstpost could be calm as a cucumber in front of Amitabh Bachchan and I was freaking out in front of Debasree just 2 days back. This led me to blush pretty much every time Richa looked at the camera.
The interview went on smoothly apart from the little annoyance caused by someone talking on her cell phone pretty loudly behind us. That's the first time I realised the power of those wireless lapel microphones. They capture everything vocal. During the interview there were incredibly funny moments which became incredibly difficult for me because I couldn't laugh out loud there. Later after the interview, the trio was rushing back when I asked Richa, "Can I have a selfie with you?". Well, she agreed. You can see it here to know about it.
https://www.instagram.com/p/BLyaMRNj6Ml/?taken-by=finallyjobless So, day 4 was super productive because later I also finished my desk work. I prefer to not reveal what I do there because we are getting ready for something big and I would love to surprise you all.
Day 5 - A lot of Lives, Google Pixel, and a birthday
I should have written Live Sessions instead of lives, but I let it slide. It's day 5, last day of the week. One week gone, 100s more to come. Firstpost has a habit of going live on Facebook for latest updates. Today was a day for EPL and Tech. Also, there is a social media show that went live. I am losing track of videos. Tech update included Google Pixel, I got to see the Google Pixel. It's so amazing. Well, it looks like an expensive rip off of iPhone but it's good nonetheless.
It was the birthday of our colleague, and we cut a cake. Here's a short glimpse of the moment. I apologise for the bad quality because it's been extracted from a video. No, you may not see the video.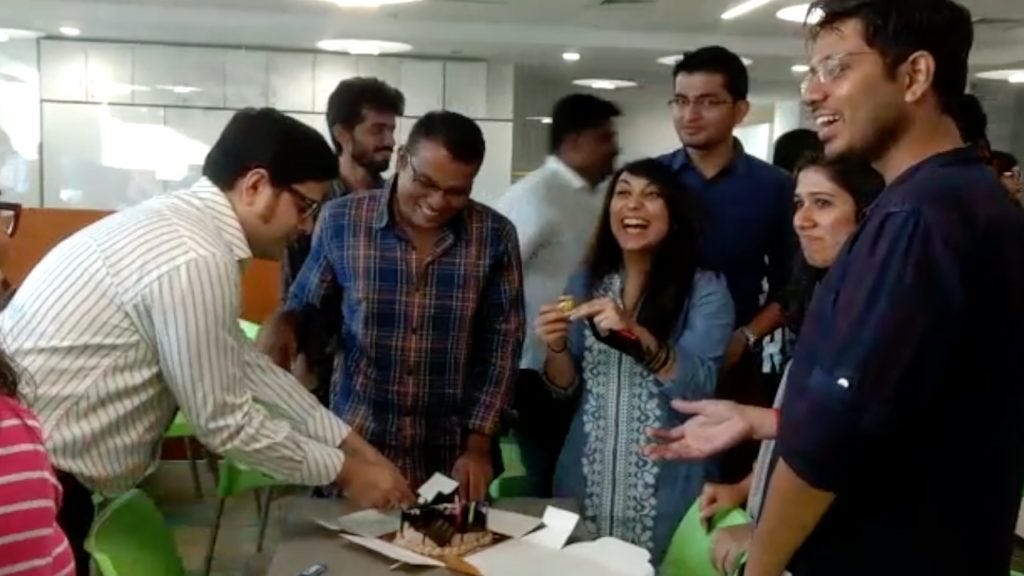 Celebrating Siddhart's birthday. Not everyone is in the frame though.
I did some work later. No scheduled interviews. There was one, that got cancelled so I can't talk about it. Later after the work-hours, I went house hunting with a colleague. She's got a nice apartment at a reasonable rate. I didn't take an apartment in her society because I found it tiny. Only later I found out that Mumbai is a Matchbox House place. You ain't getting a big place ever nearby. I made a mental note of the brokers I was supposed to call the next day and went back to my hotel. I retired after 5 hours of Facebook, whatsapp, Youtube and a lot of TV.
I am ready to conquer Mumbai like my fellow 20,000,000 neighbours in the town. Wish me Luck.
Day 6 was pretty much house hunting, and so is today, Day 7. I'm heading out as soon as the blog gets posted. I hope I get a good place. See ya soon. Peace.
-Naimish Sanghvi