A Week of learning from and gasping at Celebrities || Part -1
It's Sunday. Wow. As busy as I am right now, I did manage to find time to write this blog. By the way I have actively avoided writing it for so many days just because Facebook and Youtube kept distracting me. I gathered the guts today to put down my first week after more than 8 months in a corporate office. Boy-o-boy I had a week comparable to a roller coaster ride.
Day 0 - I enter the magnanimous Mumbai
I had settled in my guest house when my future boss called me up to check if I was doing okay. The first thing I tell him is "The Guest House is amazing, but I have to share my room". His reaction to this genuinely mirrored mine when I had first discovered I had to share my room with a complete stranger. Being the good boss that he is, he probably called the ministers in the government to find out how did I end up in a sharing room. Thankfully he managed to get the right guy and was promised that I will be moved to another guest house the next day. I went to bed later that night, probably leaving my roommate Chirag awake with the snoring.
Before that, I caught up with Sweta in the evening. I was walking towards the destination when a car blocked me. I looked up to see who was in my way, or rather who's way was I blocking. It was Sohail Khan. I raised my hand and said hi, he nodded to acknowledge. Later Sweta and I had a coffee, a burger, and we were on our way home.
Day 1 - The Introductions
After a fiasco of an Uber Ride that left me at the back entrance of the building, I had to get through another nightmare when the security didn't allow me to enter the building because for some reason if you do not have an ID card you can only enter from the front entrance. The extra 400m walk managed to make me a full 10 min late to office. Mind you, I was 15 min early at the back entrance. Nevertheless, the HR got me inside, made me fill the forms and helped me settle in. Being a veteran with corporations I came over-prepared for my first day. Formals in a media company, 12 instead of 6 photos asked for, about 2 copies of every document required, and a haircut that made me look 3 years younger than my age.
Formalities done, I walk upto my boss. I knew where he sat, because I met him the last time I was in Mumbai.I have 2 bosses in the firm. I knew that from before, but when I came to know again, I remembered the good old days of Infosys when I used to have a lead, a lead's lead, then a manager and a manager's manager. Fun IT days. I was introduced to my team, a team of people so awesome I immediately felt inferior to them. I wrote about all of them and removed it because it was too long for the blog. May be I will talk about them in another blog on another day.
I was also introduced to the incredible head of the FirstPost team. He later introduced me to another teammate from Firstpost. Soon, being the usual self I am, I started meeting people and introducing myself to them. I wasn't sure if that's how the culture is in the media industry. I am still not sure. I never joined the firm to blend in, I joined Network18 to stand out. Lastly I introduced myself to Renil Abraham, the host of The FirstPost Show. That was my first celebrity moment. He's just a regular guy in your regular office and I tried my best to stay calm when I met him. I did my best to cover my excitement because I was joining him the next day for a shoot with one of the leading film stars.
I have been given this amazing task to learn from the FirstPost team. I am diligently following them around and learning from them. Everything I can. Everything I should. And believe me when I say this, those guys have been more generous in helping me than anyone in my whole life has ever been.
Day 2 - I meet a Film star and a Youtube Star
I join Renil and the Firstpost team for the interview. I didn't know who the interview was with. I didn't ask. I want to be surprised, I thought to myself. 5 minutes later, I knew it was Ileana D'cruz. We get to the venue and everyone begins setting up the gadgets for the shoot. I shoot my Youtube Videos with Iphone. They were going to do the interview with 3 LED lights, 3 big Panasonic Cameras, 2 Lapel Microphones, and a lot of other devices. Damn, I was so under prepared. Ileana had a busy schedule so I couldn't take a selfie with her. However, that wasn't the end of my excitement. I moved out of the room to see the team having lunch. I joined them.
As I was having my Sprite induced pomegranate based ginger included mocktail, I saw a familiar face. I followed her. Followed, not stalk. It was one of the famous Indian Youtubers Debasree Banerjee. With all the guts left in me, I walked upto her. I definitely interrupted her when she was giving instructions to the waiter for her coffee with a "Hey". She responded and we talked for about 15 min about how amazing it is to meet her. And the usual, chit chat of how I know her from Youtube, soon I have a channel too followed. Cherry on Top, I made it to her SnapChat Story for the day. I also took a selfie with her.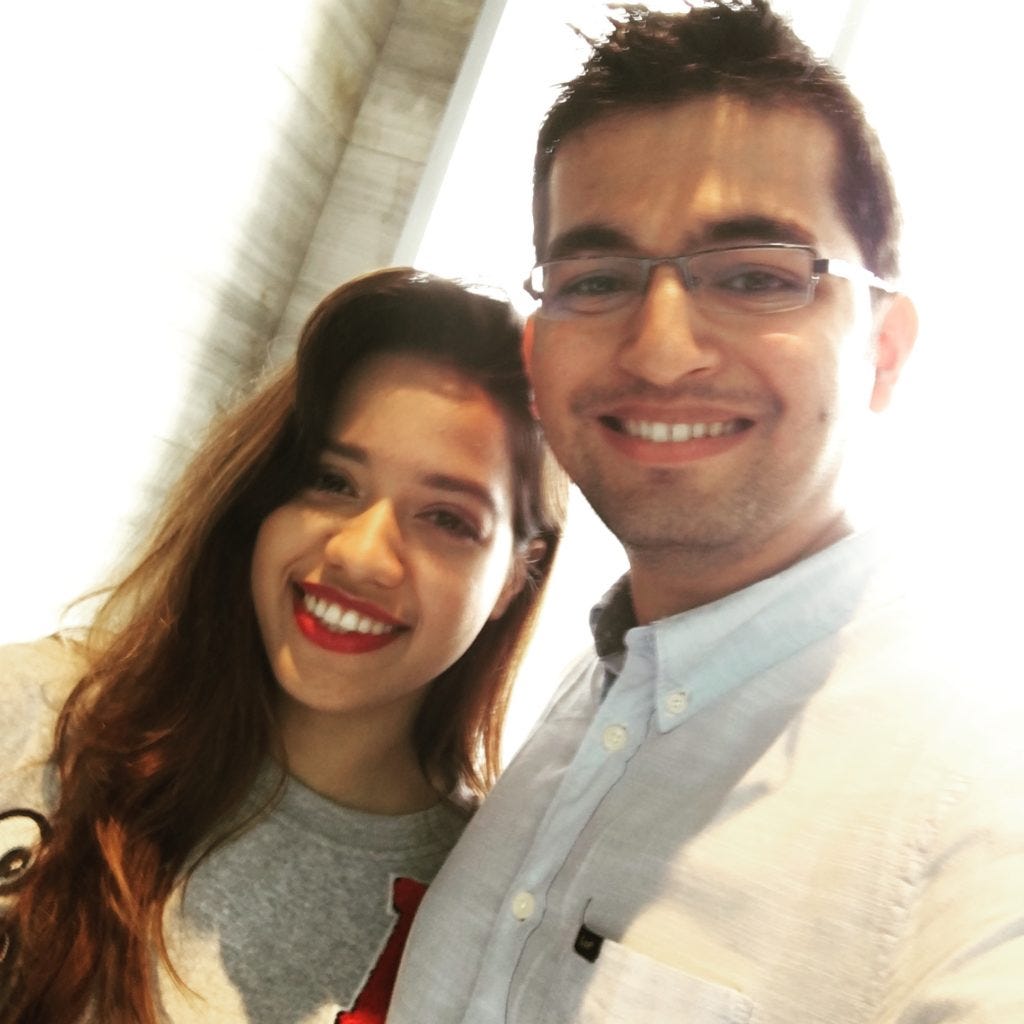 The Beauty and Lifestyle Diva - Debasree An Awesome successful day it was. You could watch the Ileana Interview here.
Day 3 - Behind the scenes with Ayaz Memon and Rohan Gavaskar
In a week, a lot of interviews gets scheduled and a lot also get cancelled. I should not be talking about a cancelled interview because that could be a potential breach of privacy. So let's stick to the ones that happened. Now, Ayaz Memon or as he's lovingly known as CricketWallah is a regular for interviews on Firstpost with Zenia. So I saw him on Day 1, I saw him on Day 3, I also saw him on Day 4. Every time I get star struck nonetheless. Mr. Memon looked at me as I looked cluelessly at the setup in the studio that was already too much for me. 3 big lights, 3 small lights, 3 Cameras, and a green screen. The final product, awesome video. He knew I was new, he smiled and nodded. After the interview I introduced myself to Zenia who replied, "I figured you are new from .....", Star struck again, forgot what she said.
Later in the day, I saw Rohan Gavaskar talking about English Premier League and Fantasy Premier league, again with Zenia. I made a mental note that I will introduce myself to Rohan but I couldn't. He was in a rush. It took one more moment with a celebrity to realise that everyone in Mumbai is in a rush, but they are likely to respond when you actually talk to them. So, I have to change my approach from the next time.
I also have to do some work on a computer, so for the rest of the day I did that.
Okay, since the blog is way too long. I will divide this in 2 parts.