The Time That I Need To Remember
Some of the students from Kripa Foundation, the NGO I was part of. Dt: 28-Dec-2004
This photo was taken the same year I had the chance to meet then prime minister Dr. Manmohan Singh. The students you see in the picture are all from different  schools in Vadodara. It was taken on the day we held a rally in the dry state of Gujarat in order to promote abstinence from alcohol on the night of New Year's eve, and also other nights but mostly on New year's eve. Tejal sent me a message on Facebook with this picture. I am also glad she did. Brought back some of the most important memories of my life.
The man in the centre is Mr. Anant Christian, the head of Kripa Foundation Vadodara. It was under his guidance that we met the prime minister for stricter implementation of Tobacco law, held a rally against alcohol, and vowed to stay safe on World AIDS day.
The meeting with the PM: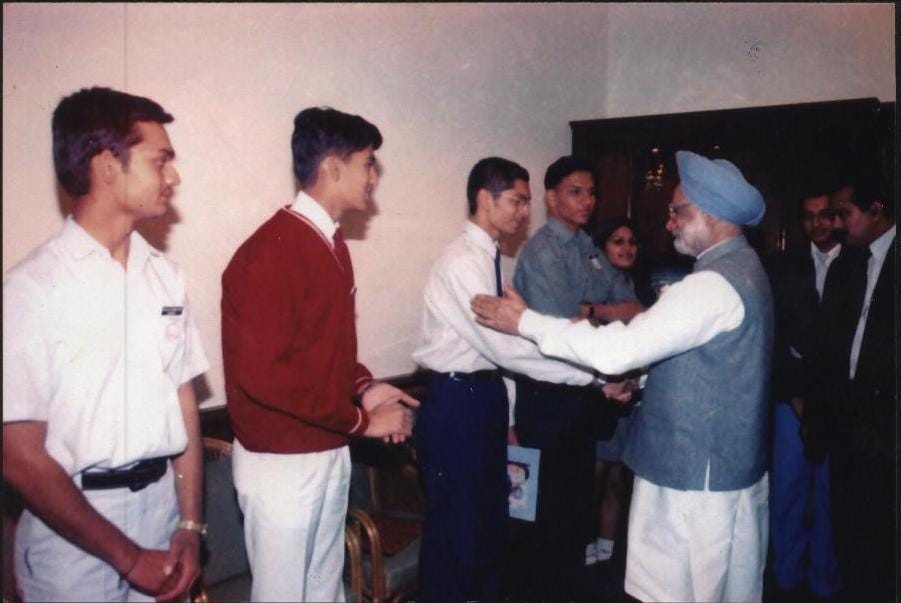 See if you can spot me
What you see today on the cigarette boxes, the scary photos of dying patients was something we recommended back in Nov-2004 when we first met him. It was a good meeting. Well, the snacks at the PM residence were awesome.
Anti-Alcohol Rally: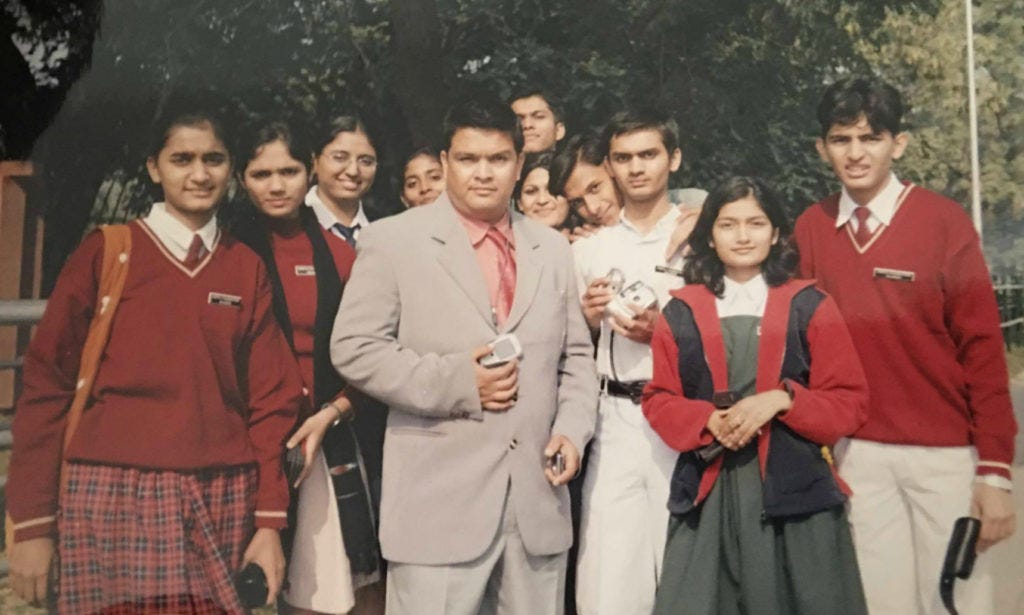 This photo was given to me by Tejal, the girl standing next to me.
Believe it or not, before I even knew what alcohol is, I was standing on the streets shouting slogans to make people stay away from alcohol. I do not have more pictures from the rally to show. The cover pic is one, courtesy the girl in the green school uniform Tejal Patel. Today I am not against alcohol consumption. I am against it's abuse. There is a difference.
World AIDS Day Program: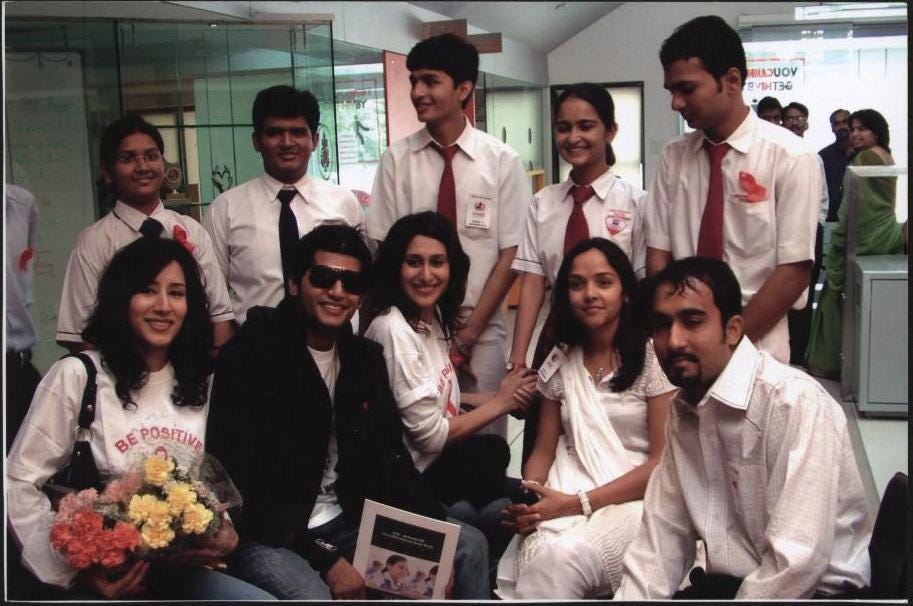 Can you recognise Karanvir Bohra? Well back in 2005, he went by the name Manoj Bohra.
My school hosted the function. Now this is not boasting but I was pretty important in my school. Or atleast I believe I was. The 2 guys and girls standing of my either sides are the Head boys and head girls of the school. The lady and gentleman on the right side are the directors of the school. Finally the other 3 are actors/Vj (from left) Devi, Manjo Bohra, TJ Sidhu. I stood with all of them without having a formal post in the school students board.
I emceed in the program. Yes. I did. I spoke against unprotected sex and the ill effects of AIDS. I do not even recall it anymore. This was my last year in school and everyone knew I'd make a name for myself. Did I? I think so. I travelled Europe, made friends all over the planet, I have 100 videos on youtube. I fucking outdid myself. I am better than 90% of the population in oracle EBS. that last one might be an exaggeration.
I was a good student. Teachers loved me. I was friends with some of the coolest people in school. I had girls crushing over me. I was popular. I had everything I could dream of. Except I fucked up my grades. The most promising student of the school, of Ambe Vidyalaya, had barely managed to pass the 12th grade. On the results day I had crushed so many hearts I cannot even count.
Whatever happened after shaped my life. I graduated from engineering with distinction. I got a good job offer. I excelled at work. Everything is now history. But the most important history for me is this. I had almost ruined my life with those pathetic marks. And it is proof isn't it? That no matter how your life is going, if you aren't careful it will slip away. It did for me.
The reason this post is important is I believe I see my life slipping away and I am trying to hold it tight. I will be able to control it eventually. But what about you? Have you had a look at your life? Is it in the correct direction? Is it where you want to be? If not, get on it. Make it right. Do whatever it takes. Just do it. That's all.
BTW, these were some of my friends back in school and I am in touch with most of them: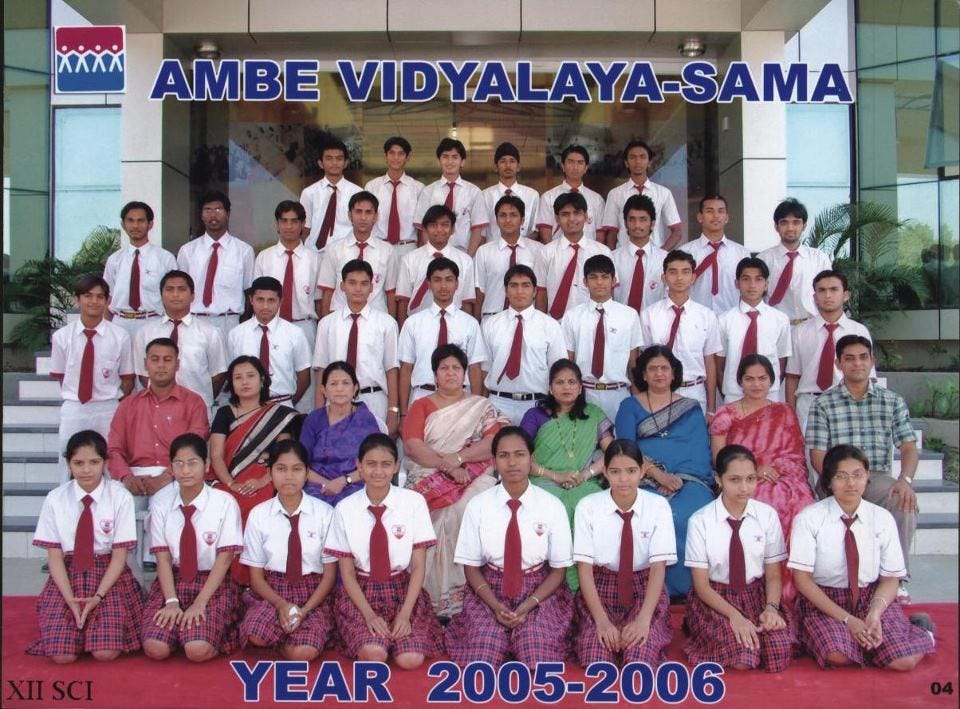 -Naimish Sanghvi