My Neighbour Wants Me To Get Married
I've always said "Cleaning is therapeutic" and I stand by it. I love to clean my house and I do it religiously. This weekend I cleaned up the house so good, it looks brand new. I even cleaned the AC. But, I can't do it all the time. The problem is I don't get time to constantly keep it clean. I see the dirt piling up in corners, I see clothes lying around, I see empty bottles, food stains around the dining table, but I can't keep cleaning them everyday. It's just too much to ask for. I clean our house atleast once in 10 days, preferably when I'm home early on a weekday or the weekend. My roommate Karan does little to help. If you're reading this Karan, I'd like to say "Atleast put the washed clothes inside, don't let them lying around in the hall". So as I was saying, I like cleaning and I like to keep the house clean, but sometimes you don't have everything you need. Today I needed a ladder/step stool, and we don't have one. So I asked our neighbour.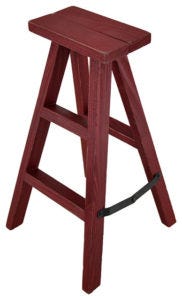 A stool ladder like this to reach the attic
Our neighbours are these sweet old couple, probably my parents' age. They are not nosy like other Indians who live in these buildings. If I have a guest at home at my parents' house, the entire building would know in less than an hour. I knew they had a table like that, so it was the right thing to ask them. They gave it to me without hesitation. I've spoken to them a couple times before so they know who I am. I took it with a promise to place it where it belongs. After the work was done it was time to return the stool I had become so fond of. It would be missed. When I went to return it, the conversation took a little turn towards what I would call "bizarre". It went like this:
Aunty: So you were cleaning the house?
Me: Yes aunty.
Aunty: Good boy, you should keep the house clean.
Me: Thank you.
Aunty: How old are you?
Me: 28
Aunty: Oh you're quite young.
I didn't say anything, I was busy placing the table in its place.
Aunty: Have you found a bride?
I froze. My neighbour who has only met me twice, knows that I can afford to pay 20k rent a month, thinks I am good looking and young, just asked me if I have a girl in mind to marry. Actually it's not weird at all, aunties in India are like that. One of the primary jobs of older ladies in this country is to get the younger generation married and then go to their wedding and tell everyone how she was responsible for this match made in heaven. Technically God was responsible if it was made in heaven, but then she becomes the match maker. Let's not get into technicalities. You get the drift. Nevertheless, it was my time to speak, so I did.
Me: No aunty.
Aunty: What have you studied?
Me: Engineering
Aunty: Oh nice. Should I find you a girl?
Well, there was nothing much to say. The table was in place, I had already stepped inside my house, albeit only one foot, and I knew this was the last question, because I was going to close the door after me.
Me: No No aunty. Thank you for table.
I just ran inside and shut the door.
I'm going to end this story right here.
Please let me know your bizarre experiences with marriage in the comment section below.
-Naimish Sanghvi
PC: nytimes
[jetpack_subscription_form]