Discover more from Naimish's Personal Blog
Blogging my mind off!
Koinex INR Transactions Will Be Instant, But When will they start?
Be Quick Without Hurrying - John Wooden
Update: Koinex has enabled Withdrawals for 48 hours starting 5:00 PM on Jan 8th This, is exactly what the Indian Cryptocurrency Exchanges are doing right now. Koinex, India's leading cryptocurrency exchange started something that put them light years ahead of the incumbents. That was the lightning fast INR deposits and withdrawals at the time when players like Zebpay, Coinsecure and Unocoin were taking 1-2 days for the deposits. Zebpay and Coindelta soon hitched the ride and began the Instant Deposits and Withdrawal services as well. The ride to the Cryptoworld got smoother. For a few days. Everything was working fine, until one day it all came crashing down. Notices went to users, many exchanges stopped instant deposits and withdrawals overnight. The banks arm-twisted the exchanges to stop catering to crypto businesses. All hell broke lose when the exchanges Koinex and Coindelta straight up stopped deposits and withdrawals all-together. I still have over 300 unread messages asking me "When will the deposits and withdrawals start?".
Coindelta Started accepting Deposits on 5th Jan.
Fast forward to today. Situation has eased a little bit. Coindelta has deployed a semi-automated solution to accept Deposits and Withdrawals of INR. Zebpay has given up on instant deposits and have resumed the manual verification process for Bank Deposits. It can take upto 5 days for your INR deposit to be verified by Zebpay. But what about Koinex?
Koinex has been delaying the Deposit and Withdrawal Service
Still no deposits allowed, still no withdrawals allowed. Frustration is mounting high. When will they start deposits? Why can't they just start verifying them manually like Zebpay or Coindelta? What is taking so long? Are they running away with our money? Are they even looking at the pain of their users? These are some of the questions I get asked on a daily basis. To which I answer "Have Patience". But I know how difficult it can be to have patience.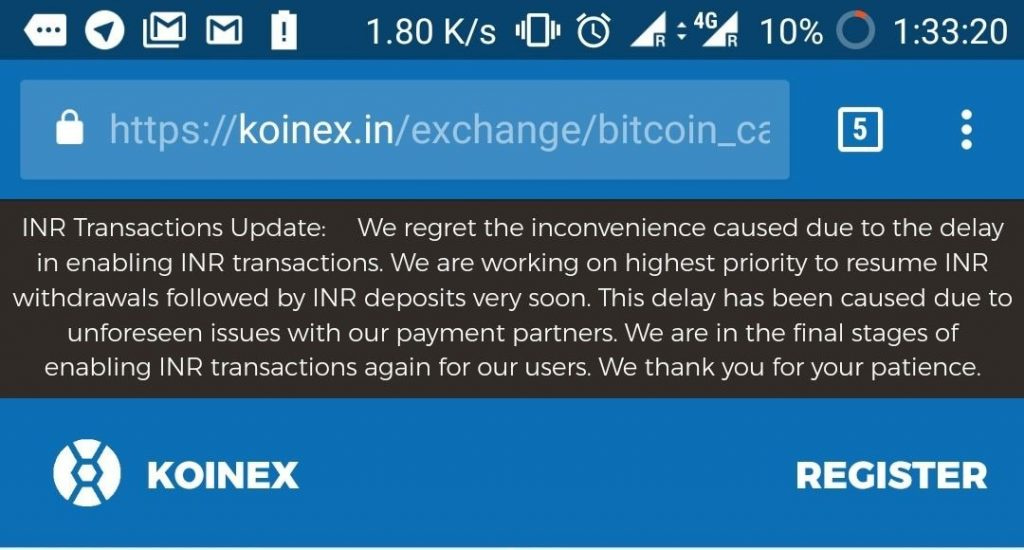 Notice on the Koinex Website Koinex founders Rakesh Yadav and Aditya Naik have been replying to some users, asking them to be patient about the issue and that they will bring a quick solution.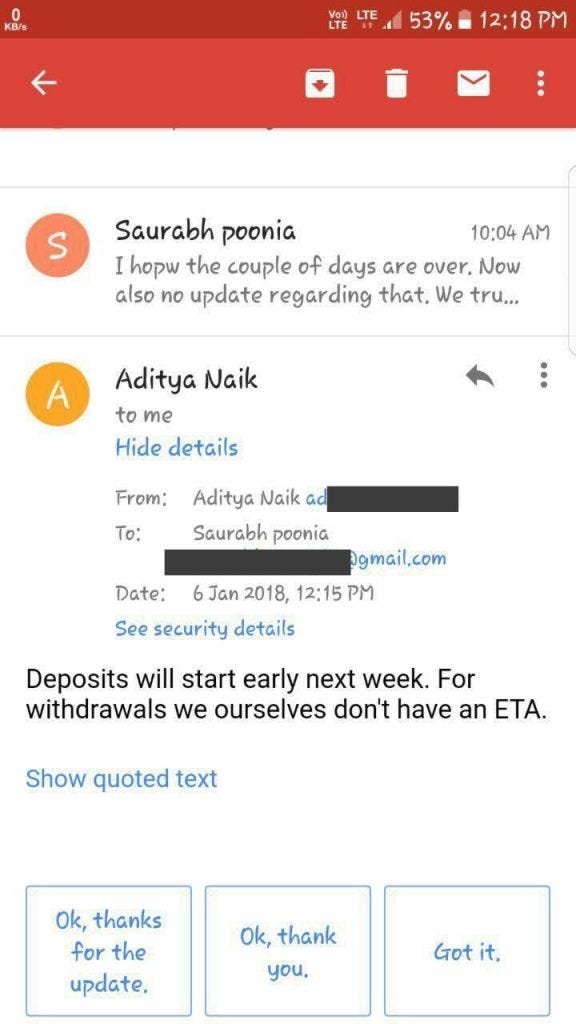 Koinex co-founder responds to a concerned user
The Deposits and Withdrawals will start soon, and they will be Instant.
It isn't hard for Koinex to start the deposits and withdrawals manually. Yes there will be a delay. But it will still be a solution. Then why are they not doing it? Let me put it this way. If you ran Koinex, would you not start accepting deposits manually? Even if it can take 2-3 days to verify? I will. Once again, why are they not doing it? To which I have an answer. Koinex isn't a company that is going to give up. From the beginning we have seen them fight it out. They took on Zebpay where the BTC volumes were close to 1300 BTC a day and Koinex merely traded 25 BTC. From 25 BTC to 500 BTC, they have come a long way. They gave their customers the best in the business services and they are not going to give them any less in the future. They had to come up with a solution that offers the exact same or even better experience to their users. So there is no way that Koinex is going to go back to manually processing the transactions. They have to find a suitable Payment Partner to process the payments instantly and CHEAPLY.  We all know what happened when they temporarily allowed withdrawal for steep 2.36% fee. So that answers the question of what's next. Now, who could that be? We might have a fair idea. Let me quickly break down my deduction:
Koinex received funding from Singapore Based BeeNext.

BeeNext's portfolio includes a payment gateway called CitrusPay.

PayU bought CitrusPay in 2016.

If I was Dirk van Quaquebeke, managing partner of BeeNext, I'd say, "Hey Rahul (CEO of Koinex), let me call up CitrusPay folks and see if they are interested?"
Besides, PayU has experience in the Crypto Business as they served Unocoin as payment partner. So, one thing is for sure, a new payment gateway is coming, but if it is PayU or not, I can't be certain. PayU can surely tap on the opportunity and become a payment partner to Koinex or even other exchanges like Coindelta, Zebpay, Throughbit, etc. That will ensure cheap instant deposits and withdrawals.
Then, why is taking so long?
That's when the quote in the beginning comes into picture - Be quick without hurrying. The best guess is that there is a thorough testing going on for the platform that Koinex, payment partner or both together have created. That will explain the non-ETA based responses from the co-founders. You can never know the bugs that can crop up during testing. It is worth nothing BillDesk's Coinome has not stopped withdrawals or deposits at all. If Billdesk can do it, so can PayU. Whatever the case, we can be rest assured that Deposits and Withdrawals will soon be Instant and arbitragers like you and I can totally benefit from it.  Update: Koinex released an official statement confirming a resolution in one week. If you enjoyed the story and would like to stay updated with the latest developments in crypto, subscribe to our newsletter now: [wpforms id="1876"]