Discover more from Naimish's Personal Blog
Blogging my mind off!
Google's new UPI payment App 'Tez' Failed the first time I tried it. It failed the second time too.
--Google Tez is a new UPI-Payment app by Google-- --I did not have a great experience with the App-- --Best Feature: CASH PAYMENT MODE--
Earlier today Google's UPI payments app Tez became available on the Google Play Store ahead of the official launch. Before the Finance Minister Arun Jaitley unveils the app, I got my copy downloaded to see how it works. Spoiler Alert: It wasn't a pleasant experience. But it could be different for different people. Let's get on with it then shall we?
Tez - The feels:
I am the lucky under 500 downloader of the App. Here's what it looks like on Playstore: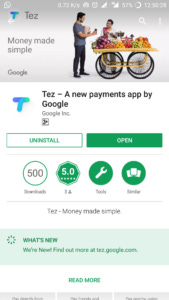 The downloads have reached 500 now On surface the Tez app looks like something definitely built by Google. It's simple, intuitive and easy to use. No rocket science required.
Tez The Features:
All wallets, UPI payments app, banking apps seem to be cloned from one another. Tez does what every other UPI app does best. There is something else though. If an app has to survive, it has to have something unique. Google ensured that with Tez.
Pay by Cash (Tez Cash):
It is not literal cash but a cash like payment system. Let's say you and I are sitting in a cafe and sipping coffee. I pay your bill and you insist to give me your share then and there. How do you do that? Before you say Paytm, splitwise, Freecharge etc . Let's just rephrase. How do you give me money in the quickest form of digital transaction? Answer: Use Tez Two phones nearby can transfer money to each other just by clicking pay and receive. Simple. Look at the Gif below which I borrowed from Google.
Courtesy: Google || How Tez Cash Mode works without phone number or bank account
Pay to phone numbers/QR codes using UPI:
This is supposedly a "new" feature according to the app, but we all know far too well that it is like cake walk to send money to other phone numbers nowadays.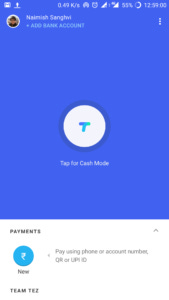 The rupee icon for payment   Although advertised as pay any phone number, it uses UPI for payments so can we really do it without adding a bank account? The Answer is NO. You cannot really pay any phone number unless you have added your bank account and receiver has done the same thing. Unlike other wallets, you cannot load money to Google Tez, to be fair, they don't call themselves a wallet so it makes sense too. So why not have a wallet instead? It's a personal choice really.
Get Started with Tez:
I know I know, this should be the first section but hey I just thought you'd be interested to know whether it is a good idea to download the app or not. I like the Cash Mode, so I am going to keep the app. Let's begin from the beginning. Once you have downloaded the app. This is what you need to do
Step 1: Choose the Language
Google is a pioneer in offering language solutions. Why should they stop here?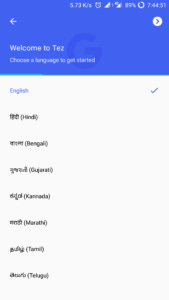 Choose Language
Step 2: Enter your Phone number
Well, it is necessary in my opinion. Isn't it? Get it? You can't really pay money to phones without a phone number. Okay no more explanations I promise.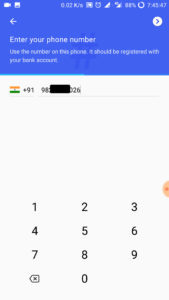 Share this article to get my number.
Step 3: Connect your Google Account
This is the final nail in the coffin that will seal Google's Tez with your phone number and Google ID. Who knows, tomorrow I might be getting my YouTube earnings paid on Tez. That would be awesome though. Every Month 5-6 rupees in my bank account.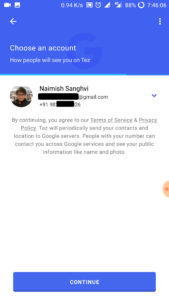 Google Tez w/ Google ID One OTP verification on your phone later you are now the proud user of Google Tez
Let's do a Transaction:
I tried to send money to my sister, but I couldn't even get to the point where I can make the transfer. The Bank Account could not be added. I tried with Axis Bank, Kotak Mahindra and ICICI.
Bank Account failure
How did it happen? I am going to show you exactly what I did
Add Bank Account:
Voila! it is a UPI based app, so you need a bank account. Click on Add Bank Account, choose your bank and proceed. It is fairly easy to add a bank account. However it did not work for me.
Adding Bank Account:
When you click on add bank account, you get a list of banks to choose from. Remember, your bank account has to be connected with your phone number on Tez. Only and only then it can automatically pick up the account.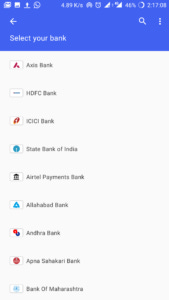 Bank List for adding account
Choose the account:
The app automatically shows the bank accounts you hold in the bank with the same phone number. Keep your debit card handy for the next step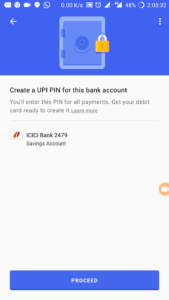 Choose the bank account you want to use
 Enter Debit Card details:
The usual suspects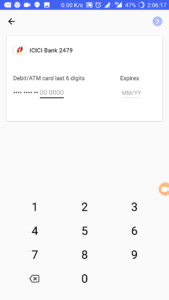 Enter your debit card details
Set your UPI Pin:
A shorty confirmation later the app will ask you to create your UPI pin. This is a standard process in all UPI apps. Enter the OTP you receive on your phone and set the UPI Pin you prefer.
Confirmation to create UPI Pin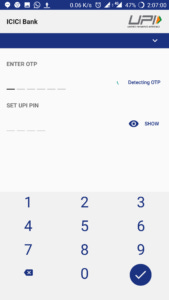 Enter OTP and set up the UPI Pin  
Now it fails:
And here you are ladies and gentlemen, this is where my ICICI account should have been added to my Tez App but it wasn't. There could be multiple reasons for the failure including something as simple as network glitch.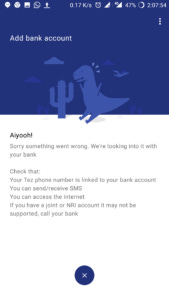 I believe that this issue can be discarded and it should work fine for most users. If Google Tez works for you, let me know in the comments below.
Tried Payment again, Failed again:
Tried to connect account again and it worked. But my joy was shortlived. I tried to transfer ₹51 to my sister for the test. Both of us have Tez installed and UPI Bank account connected. The transfer failed.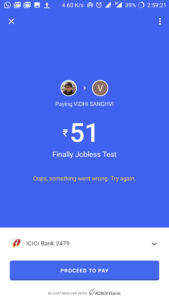 Transfer failed
One more time:
Alright 3rd time's the charm. The transaction went through without issues and my sister is now ₹51 richer.
Offers:
Customer acquisition 101: Offer some incentive. Google Tez has many offers to tempt a customer to download the app and use it. Here is the list:
1. Referral System:
Invite a friend and you both get paid ₹51 the first time your friend transacts.
2. A chance to Win ₹1 Lakh:
Call it a lucky draw if you will. If you use Tez to pay ₹50 or more to anyone, you're in the draw.
3. Get a ₹1000 scratch voucher for every transaction:
Send or receive ₹50 from another Tez user to get a scratch voucher to win upto ₹1000. I received ₹57 on my first voucher: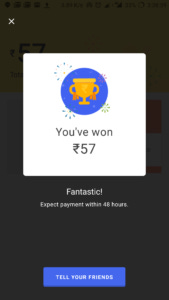 Won ₹57 after paying ₹51 to my sister.   Note: Please read the terms and conditions on the app before transacting.
Tez Verdict:
Google Tez is just another UPI Payments app. Quite honestly, it has nothing astonishing to offer. Having said that, Google Tez has the potential to become the biggest payment app in India given that Android's penetration in Indian Markets is close to 97%. You might soon find yourself paying at malls or for movies using Google Tez. Here are my reasons to download the app.
App is easy to use

Cash Mode is a quick way of paying money nearby

Reliability of Google

Great offers
I really do not worry about the failure of transaction. I believe it is a glitch which should be resolved soon. If you are stickler for no failures, Google Tez is not right for you as of now. Otherwise, go ahead and download Tez using this link. Update: Added the ₹57 voucher -Naimish Sanghvi Cover Pic: Tez Note from Author: I write about technology from time to time to bring the issues that not many would be focusing on. Please share this article to help me spread the word.