Discover more from Naimish's Personal Blog
Blogging my mind off!
Daily Diary - The log of my life - Day 26 to 50
Update: I do Video Logs now everyday. Check out my VLOGs at https://www.youtube.com/c/finallyjoblessvlog
Dear Diary, we continue the format and keep updating the diary everyday till Day 50. Today is Day 38 when I decided to move from a new post a day model to a single notebook model for 25 days to avoid cluttering my website.
If you wish to check out my previous post for day 1 to 25, click here.
Day 26 to 50 are on the post, but feel free to skip directly to any post by clicking on the links below or read it all from the beginning till the end. Don't forget to leave your comments!
Day 28 – Catching up on TV shows
Day 29 – The Flooding, Dinner and a Little Turtle
Day 30 – Catching up with the old Infosys gang
Day 31 – Time to get back Home
Day 32 – There comes the Internet
Day 33 - T20 World Cup India Vs New Zealand
Day 35 – Changing and forgetting passwords
Day 36 – The small reunion and Podcast
Day 37 – India Vs Pakistan T20 Worldcup
Day 38 - Let's make a new format
Day 41 - India wins a nail biting match against Bangladesh
Day 44 - The First vine which looks like magic
Day 45 - India Vs Australia - India won the match WT20
Day 47 - I am not ready for a Meditation camp
Day 48 - Mom finally lost it today
Day 49 - India lost the Semifinals
Day 50 - The 50 Day Journey Video
---
Day 26 - Fort Visit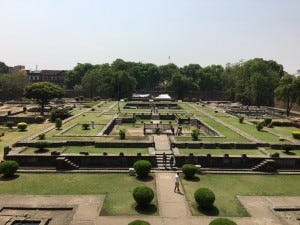 The fort layout as seen from above the main gate.
Today after almost 6 years since I came to Pune for the first time, I visited Shaniwarwada fort. It was not as awesome as I expected it to be, honestly it wasn't awesome at all. It was ruins, without pretty much anything of any sort of architecture left except for the fortified walls. The history of the fort is very rich, the way it was described by European visitors left me spellbound but there was nothing to see of such splendour. The only picture that could attract tourists is this one on the left. You could see that there is only foundation left of what once was the mighty Castle of the Peshwas. It could be blamed on the fire in the 19th century which destroyed the fort largely.
Later in the day I had a very tasty lunch at a restaurant Spice Kitchen on SB road. I would recommend this place to anyone who wants to eat a luxury meal. While Utkarsh is in office and Vivek (the other roommate) as well, I have time to kill and do what I didn't do before when I was working here. Hence the fort visit. Tomorrow will plan to visit some other place, for now I plan on sleeping early so that I can go for the unlimited Breakfast buffet I discovered in Pimple Saudagar.
---
Day 27 - Club night
I have been enjoying my days in Pune, sleeping, resting and eating different kinds of food. I am going to hit the street food section as soon as the weekend settles in. I am here till Sunday night so I have plenty of time. While my parents enjoy their vacation in the beautiful paradise on Earth, I am surviving in the hot Pune. I remember the times when Pune used to be cool and people used to come down here to enjoy the Summer. This is March and it's as hot as it should be in May/June.
TVF Permanent Roommates, season 2
Tonight, we plan on going to a club. I have to write the post because I always skip the blog when I go out to party, hence this time I am writing it before I go. There is nothing much I did today, binge watched TVF's Permanent Roommate. It's an amazing show, quote - 'Real Men Cry Like a Bitch'. TVF makes interesting shows and I wish I could make such shows man seriously. Anyways, that's it for today.
---
Day 28 - Catching up on TV shows
That's exactly how it went, I caught up on all the past episodes that I didn't watch of my favourite TV series, Gotham, Lucifer, The Big Bang Theory, Modern Family, and Quantico. It was a good 6 hour entertainment. The problem with these series is that you do not feel like leaving it alone even when you know that they are not adding any value to your life except for the science part that they discuss in TBBT.
Our major plan to make videos with Karan and Utkarsh hasn't been successful and seems like it never will be. I think I will have to stick with making Dubsmash videos for the rest of my Finally Jobless life. I really hope that is not the case though. In other news, there was an offer to go for Stand up comedy in an Open Mic Night organised by a friend. I couldn't go because I am in Pune, but I am thinking of giving Stand-up comedy a shot the next time I get a chance.
Stand up Comedy chance!!!
The other good thing I did was write a new story on Not So Small Talks. I could be honest and say that this story is a complete fake, but no one will know because no one actually reads these diary posts anyways. That's it for Day 28. If you reading, enjoy the story:
[fb_pe url="https://www.facebook.com/notsosmalltalks/posts/969790686439302" bottom="30"]
---
Day 29 - The Flooding, Dinner and a Little Turtle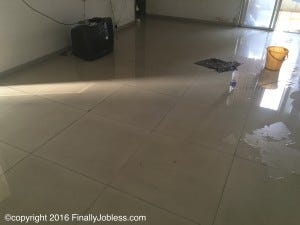 Totally flooded, partially cleaned hall.
I was responsible for flooding the house today. The balcony, the main room, the kitchen and the hallway to bedrooms, everywhere the floor was full of water when I got out of my room. Reason: 4 hours ago I switched on the Semi Automatic Washing machine and forgot to turn off the water tap. The water overflowed from the machine and started draining off the machine into the balcony.The drainage system in the balcony unfortunately was clogged hence the water entered the house and voila, it was a mess of a massive scale. You might be able to see that in the picture which was taken after moving everything away that was now soaking wet, except for the TV. Nevertheless I managed to clean it all, unclog the drainage system and dry out the whole house before anyone got home. The TV is working fine as well. I was informed later that I am not the first one to have made this grave mistake, there has been one before.
Anshul, Purvi and the cake.
Next on the list was dinner with my dear friend Purvi and her husband Anshul. After a lot of brainstorming with Richa, we came to a conclusion that a cake will be a good idea to take home for them. I took the cake with icing "Congrats Purvi and Anshul", and we ate it before the dinner. Deserts are not always last you see. Lovely home cooked meal, delicious after meal paan (betel leaves) and sweets, couldn't have asked for more. They have been recently married and I wasn't able to attend their wedding as I was in Turkey working my butt off to get that reconciliation done.  Sigh! it's almost a month since I left the job and I have begun to miss those monstrous reconciliation of general ledger accounts.
"Tutu" the turtle
At Purvi's place I met a tiny Ouachita map Turtle. You might think how does Naimish know the species of the turtle, right? Do not scratch your brains much, I just googled 'Turtle with Pointy back" and the image results showed this Species of turtles. I did write a blog on how birds are illegal to be caged in India, but foreign turtles, I wasn't sure. Hence I went through the Wildlife protection act again, painfully, to find out the truth about it and guess what, only 10 species of Turtles are banned to be kept as pets. Hence this little fella "Tutu" was legally living at their place. I did have concerns about the well being of the turtle and I will share those with Purvi as soon as I get all the details from my googling.
That's it for today. It was an overly productive day for a person who is supposed to be jobless. Karan has been sharing my posts, and I hope he shares this one too. There is good info on it right?
Did you like my post today? Do you like Turtles? Do you have turtles? Want to know if they are legal or illegal? Leave a comment with your answers, questions and suggestions.
---
Day 30 - Catching up with the old Infosys gang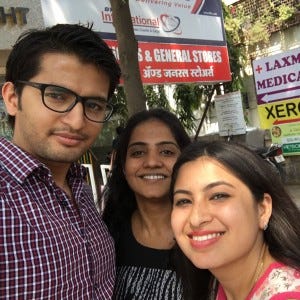 From Left: Me, Megha, Richa
Today I had lunch with Richa and Megha, 2 out of 6 people in our group that formed when we had just joined Infosys. Megha is fussy about food (She told me that) but still we forced her into coming with us to a Mexican restaurant where she ate nothing and the food turned out to be terrible as well, followed by some Indian street food which was a bit wasted too. Unfortunately, food wastage is a big problem around the world and I feel terrible now for it as I write this blog. We caught up on a lot of things, and it always is awesome to catch up with good friends. We became friends when we were straight out of college so the friendship was stronger than the usual ones. All 6 of us had our differences with each other and still do, but I guess if someone would call the other for help, they would not hesitate to. After all that's what friendship is right?
Rest of the day was spent in writing about the species of Turtles that are banned to be traded or kept as pet in India. It took me 7 hours to prepare that blog and it's sad that despite my attempt to provide the world with something that is not available on the internet easily, it did not get shared or read much. Nevertheless I will keep finding topics like these and keep writing. We went to watch "Revenant" at 10:45 PM, shortly after the interval I wasn't able to stay awake. It is a boring movie and I did not like it. I think half the people in the movie hall were asleep. Leo got a worthy oscar, but the movie sucks.
That's it for Day 30, a month since I am jobless.
---
Day 31 - Time to get back Home
Neha and I took a selfie while having lunch.
My Pune holiday ends today and I am sitting at the airport to go back home - Vadodara. I enjoyed a lot here with my old friends, the weekend shenanigans, the parties, the lunches/dinners with all my different set of friends, from Infosys, Deloitte, Pune, etc. Overall, the past 10 days were really amazing. Now, need to setup a further plan for the rest of the days starting tomorrow like, get a broadband connection at home, plan a road trip for Madhya Pradesh in April, join a meditation camp for 10 days, exercise and play some sport. Good plan eh?
Dinner time (Clockwise from left) Amarsh, Vivek, Utkarsh, and me.
Since we could not make any youtube videos in Pune, Utkarsh and I came up with a plan to start our own Podcast. Stay tuned for that. I need to listen to a few Podcasts to understand how it works. How it turns out though, is yet to be seen.
I had lunch with Neha, my friend from when I was in Infosys. It felt really good to catch up with her after almost 2 years. To beat the heat of Pune, we chose a nearby restaurant 'Dal Chini' and the food turned out to be okay-ish. I wouldn't recommend the place to anyone. Next, Vivek and I got into a beanbag fight at home and the video is now on Instagram.
https://www.instagram.com/p/BC5IXCfEyi_/?taken-by=finallyjobless
Later, we had dinner and I took a cab to the Airport. Utkarsh's elder brother 'Amarsh' was also visiting so I was glad that I could meet him as well. It's been more than 3 years since I met him. So, that's it for today. I am at the airport waiting for the boarding announcements for my Indigo flight. Sayonara!!!
---
Day 32 - There comes the Internet
Day 32, Vadodara, Home Sweet Home. Is it really sweet? The simple answer is NO, the complex answer is ABSOLUTELY NOT. Imagine yourself coming home after 10 days of holiday and meeting your parents, who are also coming home with you. Yup, my parents and I took a cab from Ahmedabad to Vadodara at 2 AM in the morning to get back home. They were coming back from their holiday in Kashmir - The heaven on Earth and I as you already know was coming back from Pune. You are home after 10 days, everything in your suitcase is unclean, your body is exhausted, and you are mentally prepared to take the best nap of your life when you enter the main door. Wake up in the morning and the first thing you hear "Unpack your stuff so that we can do the laundry", well that's when home seems not so sweet. The second thing you hear is, "Don't you have this list of tasks you need to do?", and the most annoying realisation you have is "Your home does not have internet, let alone high speed Internet".
That's my face in the scorching evening heat after I fixed the antenna behind me.
I ignored everything else and focused on getting my new broadband connection setup. I called the ISP at sharp 9 AM, the internet company engineer was at my place around noon and after a tough ordeal he managed to complete the whole setup by 14:30, a rough 2.5 hours. Yet, it did not work. He went back to his office and came back at 17:00, took another hour or 2, took my help in adjusting the antenna, and finally around 7:00 PM, my house, my home was now equipped with an unlimited 2 Mbps connection. Yes, 2 Mbps is the maximum you can get here or rather it's what I can afford to have, so I took it. It's cheaper and better than the 3G connection I had been using. Vadodara is not yet developed in terms of high speed stable internet connections like other big cities like Pune or Hyderabad where I lived.
The next step was to use the internet and I did. I managed to upload a Dubsmash video on Facebook and Youtube today. It had been prepared since more than 3 weeks and I only uploaded it today. Here it is:
https://www.youtube.com/watch?v=OfVVJDLcGo0
That's it for Day 32. Now, I will go watch something else on Youtube, thanks to my dear Internet connection. Take care!!!
---
Day 33- T20 World Cup India Vs New Zealand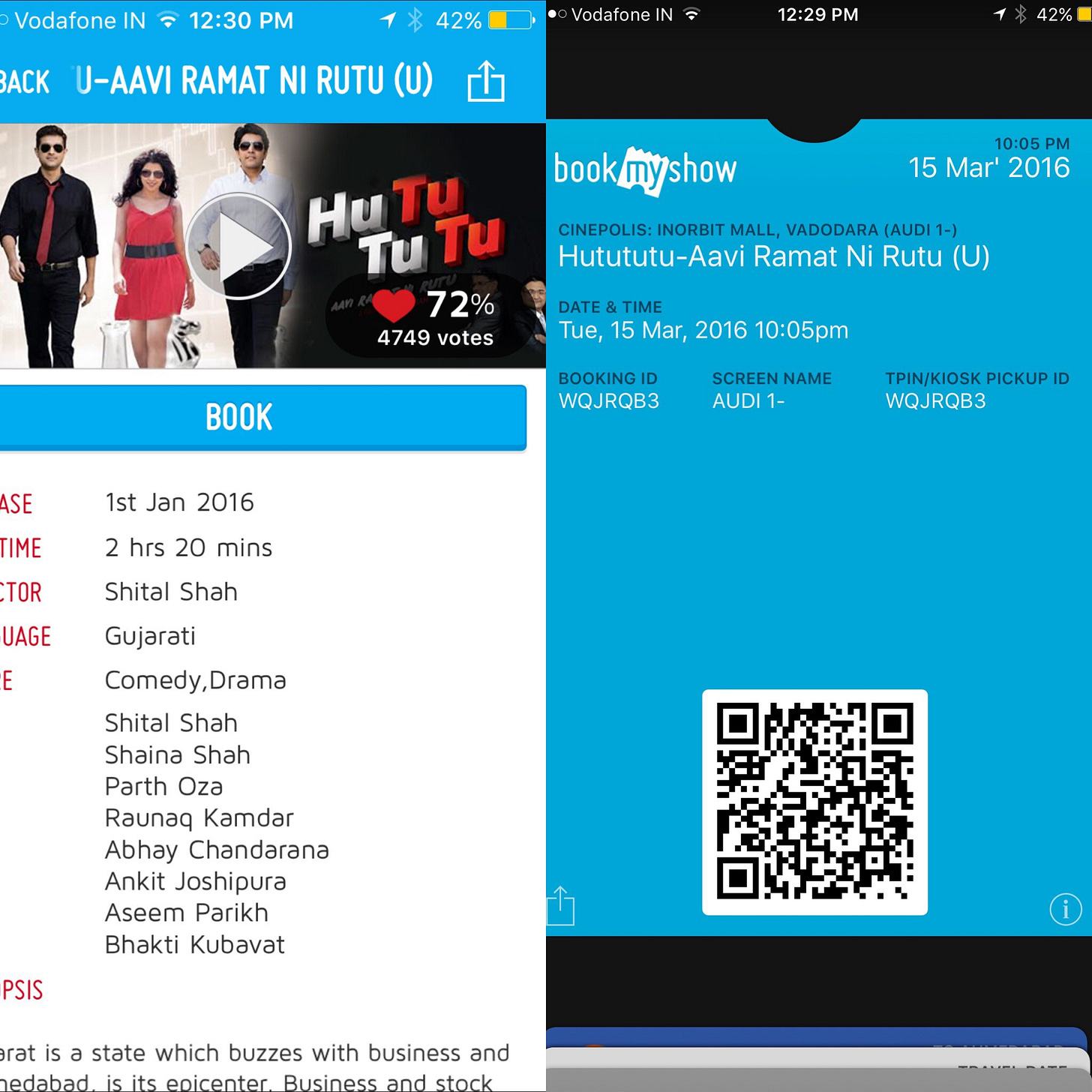 I booked tickets for a Gujarati movie 'Hu tu tu tu' because my old classmate and friend stars in the movie. What I forgot was that today is the Cricket match between India and New Zealand. So I am here at the movie theatre, watching ball by ball update, waiting for the movie to start and typing on the Wordpress Mobile App to post my daily diary. India is currently 3 wickets down and it's in a terrible state. I really hope they win the match.
Another upset today is that I lost our home movies we made in 2012. I wanted to edit them and release them but now it's not going to be possible as every back up I have of my previous phone is void of those videos. I really hate myself for losing it. I feel content in thinking that whatever happens, happens for a reason, and hopefully a good one. Let's see how it turns out.
India is 4 wickets down and they are breaking my heart. New Zealand is a good team but India can beat them in home, not sure why they aren't able to bat properly. Nevertheless I am always optimistic about team India no matter what it looks like. So here I am waiting for the movie and heart broken for losing our movies, and afraid that India might lose, and just now mom reminded me of my sister's exams which are going on. I can't wait for her to be back home so we can start Dubsmashing. That's it for today. I actually helped mom a lot in the daily chores so I am a bit tired. Let's see how the movie is, how India does in the match and will I be watching Lucifer when I am home? See you tomorrow!!!
---
Day 34 - No Podcast
I was so thrilled and excited to record a new podcast with Utkarsh today, but the internet at his place stopped working. Let's just say that this Internet and I do not go hand in hand. It's my bad luck. We did not record a Podcast today, India lost the match yesterday, the movie was too long, and I did nothing but stayed on my computer all day preparing for the Podcast and updating the website. The only good thing that did come out today was that I finished my new story 'Aparna and the Monk'. It is a story about a widow and her wish to serve the monk. Sounds a lot like 'Shabri from Ramayan', 'Mahavir Swami served food by Chandanbada', and so many others. However, believe it or not, it's not the same story, it's an original story by me. I would recommend to read it once.
You should check out the About me and Contact us page. I revamped it to make it better. Check it out. I can say the day was a productive one albeit a lot of bad news came in. Website looks good now, better than before, still more work to do so I will be busy. Other than that I am a little nervous about tomorrow, I have to go to the dentist to get a cap for my tooth. I have gotten used to a broken tooth and now the complete tooth will be a little hard to adjust to.
Vodafone!!! AAAAHHHHH
Oh, Vodafone launched 4G in India and they advertised so much about how they have the best 4G and all that crap, I decided to upgrade. There is this link where you can check if you are 4G ready and I did. Those buggers still do not have 4G in Telangana and Gujarat. It kind of bummed me out. One more bad news for the day. That's it I am going to bed. See you tomorrow.
---
Day 35 - Changing and forgetting passwords
I decided to change all my passwords today. I made a list of websites and email address I am registered to, and started changing passwords on them. I was only able to change the passwords of 50 % of those sites before I stopped and decided to continue tomorrow. In the evening I tried logging in to one such website and I realised I had forgotten the password. Out of some odd 10 accounts, I only remember the password for 1. In the age of automation the memory of human beings is taking a toll. I do not remember any passwords now and I have to reset them all. It's brutally time consuming.
I went to see my dentist today. Now, I have to wait another 5 days before I could get a new artificial crown for my broken down repaired tooth. Then it should be good as new. Meanwhile today my mother started joking with me. She made a curry with banana, green raw bananas and told me it is bitter Gourd. Bitter gourds are extremely bitter in taste but very healthy. I said I won't eat it and she told me "Try it, if it's bitter, don't eat it". I obliged and took a bite. It was indeed sweet. I asked her how did she manage to fix the taste, and she only replied with one word "Magic". My astonishment was not settling down as I gulped down the curry until finally my dad decided to tell me the truth. My mother, my own mother played me. I can't believe it.
I am now registered to a new encrypted email service and my email address is Naimish@protonmail.com. Isn't that amazing? That's it for today. Not a very eventful day I would say. See you tomorrow.
---
Day 36 - The small reunion and Podcast
It's day 37 and I am writing about day 36 now because I was up till 3 AM yesterday doing a Podcast with UT (Utkarsh). It was terrible. As terrible as it can get and I couldn't sleep thinking about it. We have now decided to redo it, with better learning, understanding and proper delivery. I hope it works out well. I really want this Podcast going and so does UT. I couldn't write about the day yesterday as I had no time and I was too lazy in the morning today.
Anticlockwise from the right: Dhruv, Me, Niraj and his daughter, Sumit, Gopal (Not a school buddy), some family and finally in the far left is Niraj's wife.
Nevertheless, yesterday was once again a very eventful day. I met my school buddies, one of them just opened a new office of his firm, we all were there to wish him the best. Today, we plan to watch the India Vs. Pakistan match at his new office on a film projector. Woot Woot. Time to cheer for India.
I started exercising from yesterday too because well, I need to be fit and healthy. I can barely make 3 flights of stairs so my fitness level is an absolute 0.
We also played a game called 'Satodyu', that's a household name for the game and I am not really sure what it's actually called. It is played with a ball and 7 wooden pieces placed on each other to make a tower. There are 2 teams. 1 team will throw the ball and try to hit the tower. If hit, the other team will pick up the ball and try to hit the players of team 1. Team 1 will have to re-assemble the tower once again before anyone from team 2 can hit them, if they do that, they win, if they are hit first by team 2 they lose. Easy game right? Since I do not know the name of the game, I couldn't find any decent pictures, but here's one I took from a movie song. If you know the name please let me know in the comments.
4 of the 7 pieces shown being struck by the ball.
I played this game everyday as a kid, but when I played it with the people in our building I turned out to be the worst player in the lot, there were ladies older than me and kids much younger who were better at the game than I was. I also ran into a 3 year old boy by mistake and we both took a nasty fall. I tried to protect him as we hit the ground but he was a little hurt and he cried like a baby - Pun intended. The kids feel neglected when their parents are playing the game and instead of all kids getting together and playing something themselves, they try to jump into their parents' game causing such accidents. Unfortunately I hit this little boy and he wouldn't talk to me after. The beauty of kids is that they also forgive and forget soon, so the same kid will be fine with me the next day.
The other fun fact about the building is that the parents of all the little kids are either my age or slightly older, which means that I am technically supposed to have been married but I am not which makes me happy, albeit a little sadistically. The culture is different, people are family oriented, people are friendly with their neighbours, back in Poland I had no clue who my neighbours were except of course my very next door neighbour who also always turned out to be a work colleague. People come together at night to either play these games, or just sit and talk. This is what I like about being in India. I am getting used to it.
Finally, it was the bottle that took a nasty fall as well when I couldn't catch it. Have a look. That's it for today. See you later.
https://www.instagram.com/p/BDGoDN8Eysx/?taken-by=finallyjobless
---
Day 37 - India Vs Pakistan T20 Worldcup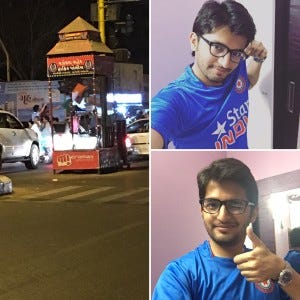 That's traffic jam on the street after the win...
Yes, India Won. We might lose the WorldCup, we might lose the series, we might not care about matches or cricket but when it's India Vs Pakistan, we are the most patriotic people on the planet. India won, we were on the street, and people were running around shouting with Indian Flags, crackers bursting, cars honking, oh the excitement was amazing. I was supporting the team in my own way by wearing the Indian Cricket team jersey.
Watching the match and writing Day 36 post is the only thing I did today and I want to keep the excitement at the same level for winning. So that's a wrap for today's post. See ya!!
---
Day -38 Let's make a new format
We were watching the movie Kapoor and sons since 1921 and it occurred to me that I want to write an article about the 2 face character of human beings. I did not write the article yet, but when I thought about it I realised that if someone visits my website they mostly see the daily logs instead of actual blog or stories that I want to promote. Hence I decided to delete all daily blogs and archive them in such a format that you are reading. This means that for every 25 days I will have only one post in the category: Daily Log. I hope this brings a refreshing change to the website along with some front page edits that I planned. I am learning a lot and improving in english, blogging skills, and writing skills. The best part is that since I am learning mostly by myself I am able to remember it better.
Another thing that I thought of doing was to create memes now. I understood that my Facebook page and twitter handle is to make memes and share stupid tweets instead of my website updates. I should share my website updates directly from my personal Facebook account.
This is the meme I made today, I got 1 like only, it's sad, but I hope it will get better with time. This is it for Day 38. See ya later.
[fb_pe url="https://www.facebook.com/finallyjobless/posts/234967386853346:0" bottom="30"]
---
Day 39 - Badminton with Kids
Today I woke up so late that all the tasks that I were to finish in the morning got pushed to afternoon. Later the afternoon turned out to be too hot to handle hence they got pushed to evening. The banks are closed in the evening so the tasks were pushed to tomorrow morning. I must say I excel at procrastination. I am impressed at my abilities. Nonetheless, I am trying not to skip on my daily exercise session. In today's session I played tag and badminton with kids. Somehow these kids are enjoying their games with an adult like me. It was interesting. Kids can surely make you run and they are always full of energy and enthusiasm to beat a grown man like me. After 2 hours of badminton and running I came home, took a shower and sat back on the computer to change something on my website.
I installed google analytics today, thus I will be able to capture the traffic on my website. I should have done this a long time ago but I didn't, procrastination at it's best. After sharing my new blog on Adoption in the morning I was tracking it myself in a way, looking for how many likes and comments I have on it. There are absolutely no comments on the post on the website. I guess I cannot have a viral post overnight. Another surprise today was a mail from a director of a consulting firm. He asked me to apply for an opening in their company. The position is Lead - Corporate communications. I do not know ABC of corporate communications but I have decided to give it a shot. The call is at 2:00 PM tomorrow. Maybe this is something I can use as a stepping stone to becoming an author or atleast a famous writer,blogger,copywriter, or something which has anything to do with writing.
So this is it. This is a big reveal. I may have taken a break from corporate job, but deep down I want to become a writer and every chance I get to become one, I will take it. Good luck to myself.
See ya.
---
Day 40 - Stopmotion Animation
Yup, I learnt to make Stopmotion animation, as much handwork as it is, it pays off well. I love the 2 vines I made.
Actually that's pretty much what I did today and I got myself a job interview tomorrow morning. I am not really sure if I will take it, but I will find it out tomorrow.
https://vine.co/v/ipmHezUzV5D
https://vine.co/v/ipW7hUmBwxJ
That's it for today. See you tomorrow.
---
Day 41 - India wins the nail biting match against Bangladesh
I must say I am a little disappointed. If it weren't for all those mis-fields, dropped catches and bad balls India wouldn't have been in a position to lose today's match. However, partial luck and partial talent was responsible for the win. It was indeed nail biting. A billion people had their heart skip a beat at every ball in the last over. I was so excited when we won that I probably shouted loud enough to wake up the neighbourhood. What a match!
[fb_pe url="https://www.facebook.com/finallyjobless/photos/a.217100065306745.1073741827.214477858902299/237438576606227/?type=3&theater" bottom="30"]
In other news, I have decided to become a freelancer sooner or later and not take the job offer by the management consulting firm. Taking that job would mean I will be once again working under someone for all the hours I could do something for myself, or even absolutely nothing. No point of the 1 year break then is there? Tomorrow I will write to their director that I am not interested. The problem is that I am not good at saying NO. That's why I couldn't tell him I am not interested while I was sitting with him in his office. Writing this mail is going to be hard, but I will do it.
Next thing I did today was make a longer Stop Motion animation and upload it on Youtube. Check it out here. I haven't shared it on FB yet, you know because right now all everyone cares about is the match.
https://www.youtube.com/watch?v=9eQhPrX7p-I
Next, today I am personally changing my scope of Finally Jobless. Hence the twitter account @FinallyJobless has been deactivated and the username of my personal Twitter account @nashrockshere is now changed to @FinallyJobless. The same goes with vine. I will have to make changes to the contact pages, which I will do now once I update this post.
That's it for today.
---
Day 42: Happy Holi
https://www.instagram.com/p/BDU8BywSbzc/
Today we celebrated Holi with colours and it was awesome. I am still unable to get rid of colours from my arm and neck. Thankfully while playing football later today, the colour from my face washed up with sweat. I think I celebrated the festival after years. I do not remember when and where I celebrated it last.
Later today I decided to revamp my website, I penned down some ideas and I am working on them. One of them is to have this video on the Home page. How is it?
[video width="960" height="540" mp4="https://www.finallyjobless.com/wp-content/uploads/2016/03/FJ-notes.mp4"][/video]
I have also decided to start finalising a schedule for my post. All the stop motion animations have drifted away my focus from writing. I haven't written a single blog post in a week, and I haven't had time to think about a story. I will do it I know, I just don't know when.
The moment I wrote the response email to the job offer, I knew I want to write a novel one day. It might get published and be successful or not be successful, but I will be happy I made it. I wanted to write since I was in college and now is the time I can actually do it. If no one is ready to publish it, I will publish it myself.
The other thing I was thinking was I can also publish blog posts and articles written by others. For example Shirin sent an article she wrote about friendship to me by email, I could check with her if I can publish it. I will mention her name as author and give a link to her Facebook profile. That can actually work. I need to ask her though. I know 2 people who read my diary, one is Shirin, of course she is my best friend and also an pseudo-editor for my posts and the other one is Sweta. Sweta is the same girl who came to say good bye all the way to my home in Hyderabad on the day I was leaving.
Since Shirin is already reading this, what do you say Shiru? Want me to put your article on the website? Let me know what you think.  That's Day 42. For more Holi Pictures, check out Instagram @FinallyJobless
---
Day 43 - What Should I do?
This question has been thrown at me from the day I started telling people I will quit my job. My question to myself wasn't in the same context though. My concern is whether I should make more Stop motion animation, work on my new front page design, write blogs, write stories, or make some skilful vine or a video. This is what bothers me. I have decided to write my goals on a paper and stick it on the fridge. If I don't do that I will never be able to achieve something or even get one thing done. I am learning to stay away from social media and to exercise, play a sport,and all such gimmicks to stay fit. I have lost some weight and the belly fat. Thanks to no alcohol and healthy food along with the running and playing.
Things aren't always easy. 2 days of badminton and I have some sort of an ulcer on my hand now. It's like something you get when you wear new shoes. It will heal in a day or two but it's a hindrance in the play. Today a 12 year old and a 16 year old beat me in badminton, the only sport I could actually play a little better. That's not the upsetting part, the upsetting part is that I didn't feel upset. I should be ashamed of myself for losing against the kids. What has happened to me? They are not champions, they make the same mistakes I do. I appreciate their talent but it's me I am worried about. So starting tomorrow, more focused and energised game to beat these kids and show them who's the boss.
The funny part about living here is that although I am a grown man, an adult, I bond well with the kids rather than the adults. Right from 3 year olds to 16 year olds, I play and have fun with all these kids and as far as I can tell, no one hates me. There is no problem with hanging out with adults, they just don't have time to come downstairs and play. Some of them do sometimes, like today I played badminton with my neighbour couple, but most of the time it's the wives who are free in the evening to play and we play these games like Satodyu and have fun. I am not sure what society norms are to play with kids and be childish around little kids, but I never gave a damn about society and I still don't so I love hanging out with the little tots. So that's my daily schedule so far. I wake up late, I eat lunch, go out and finish work if there is any, come back, try making videos, go downstairs in the evening, play badminton, football, etc with the kids, come back up, eat dinner, go downstairs for a walk with mom, play Satodyu with some of the adults from the building, come back upstairs and write the daily diary, do some work on the website and sleep. Sometimes I watch a movie or a TV series, read or chat with a friend. That's it. That's life for me.
Shirin agreed to let me post her article so you will see it soon. Once again there is only 2 people I know who are reading the blog, one is Shiru and other is Sweta who today told me she won't read it because she is mad at me. So hey Shiru, I am going to put your post up soon, not today though. I need to make some setups before I do.That's it for today.
---
Day 44 - The first ever vine which looks like magic
Yes, I made a vine today. After 2 days of trying different things, putting a lot of thoughts, I was able to prepare a vine with some editing and it looks like magic. Sadly, Indian users do not use vine. They have no freaking clue what vine is. I asked a friend of mine if he knew what vine is, he said yes, "BB ki Vines". BB ki vines is a video channel on youtube who in the name of vines makes 20-30 min long videos. Vines are strictly 6 seconds or less videos for that quick bite of entertainment and people really need to know what it is. I have friends who either don't care about what I do, or just don't know a lot of things I do. I don't know how to grow an audience. No one shares my work and it's not good. I need people to share my work. The people who actually like what I do, 5-10 of them, they also do not share it. I am not sure why, but they ought to help me promote my work. Nonetheless, have a look at the vine. I will make a new one tomorrow.
https://vine.co/v/ipLzqKqIdzg
---
Day 45 - India Vs Australia - India won the match WT20
India won, as I had hoped. To be entirely truthful, I only care about team India when it's a big tournament like a world cup. Rest of the time, there is just too much cricket in India to follow. World cup 2016 has been a nail bitting affair as team India keeps winning from their 2nd match onwards and always keeping the audience on the edge of their seat. It is more like JJ Abrams TV series, you won't know what's the going to happen in the very next minute. Remember LOST anyone? India wins the match, as usual I make a meme like the one below:
[fb_pe url="https://www.facebook.com/finallyjobless/photos/a.217100065306745.1073741827.214477858902299/240514809631937/?type=3&theater" bottom="30"]
I have decided that FinallyJobless is not going to be a hit overnight unless I upload a video of someone surviving a massive accident miraculously, hence it's time to go on a short hiatus. Thus, I will not post anything on Facebook as FJ or myself till the next match on 31st. This will give people time to visit my older posts, and check them out. Twitter, vine and youtube stays the same. Nobody gives a damn about it anyways. Utkarsh and I haven't been able to record the podcast too and it's killing me now. There is just too much I should be doing and I am not doing anything. I am actually on a break from work in corporate but I am now taking break from something I want to do, something I love and it's not good for me. Aum Joshi, my dentist comedian friend has requested me to come down to Rajkot so that we can make a video. So far, all plans to make videos with Utkarsh, Karan, Lovel, Dhruv and my neighbours have failed. I blame myself for the failure with the neighbours. I think I will give a shot to dubsmash with my neighbours tomorrow. However, the rest of the ideas failed for various reasons. I am skeptical about Aum but he is a stand up comedian so he would actually be excited about it. There is nothing wrong in giving it a shot.
I still haven't prepared the chart of goals as well. That I need to do right away, I am losing track of everything. Anyways, things related to FJ aside, I think today was a very good Sunday for me. We went to riverside today and I had an unwanted pleasure to be nibbled by tiny fishes. Until the moment I saw that the sensation on my foot was due to the nibbling by a fish I was just ignoring it. As soon as I saw it, I probably shouted loud enough to scare away little kids playing in the river about 100m away. No seriously, they were staring at me. I realised today that more than anything I am afraid of fishes eating away my body. Like Sheldon Cooper said: the only sea creature I would even consider being eaten by is the Kraken, because the last words I would hear are "Release the Kraken." Notice there is no link under Sheldon Cooper? Because if you don't know Dr. Sheldon Cooper, you don't deserve a shortcut, go google it. I tried to record it on camera by deliberately putting my foot in the water to lure the fish into biting me but as soon as the fish's mouth touched my foot I shouted in horror and removed my foot out of water. Well, this one fear I could not conquer today.
Here's the image of the fish, for my own personal reference to haunt me till I go to a spa and get a doctor fish to bite away the dead cells in my foot, which seems like never.
This fish doesn't look like a Doctor Fish used in a spa yet she was looking for food in my foot.
Also, look at today's vine:
https://vine.co/v/iDqX1HhWHB2/
That's it for today then. See you tomorrow.
---
Day 46 - The Realisation
Sometimes when you think you are on your way to achieve something you realise that while you are moving forward with your plan, you are leaving behind the ones who gave you the courage to follow that plan. This realisation seldom comes from within because you are usually preoccupied with your own decisions, but when someone else makes you realise what you have been doing so far, it's that time when you the earth under your feet slips away. Something like that happened to me today. The lesson learnt is that you should never forget about the most important people in your life. Although you might think you haven't forgotten them or that you still care as much about them as you used to, if they do not feel the same way, it means you have failed. It's not the goal that matters the most, it's the people you are with who takes you to that goal that matters. Atleast, this is what I believe. You are sent on this planet for one life. Do you really want to spend that life by just moving on? It's not right, is it? I have decided to change my attitude.
I wrote a new blog post today after a long time I suppose, it's regarding the obsession with fair skin in India. I am not going to share it today with social media. I will share it after the world cup is over. The reason is simple, topics like these will be diluted and I don't want them to. I will of course share the link with few friends of mine who can read it.
That's it for Day 46. See you tomorrow.
---
Day 47 - I am not ready for a Meditation Camp
"Quiet the mind and the soul will speak", one of the mediation quotes. The problem with quieting the mind to hear the soul is that you have to give up your phone and stay in isolation for 10 days. Do I really need to do it? - Yes. Do I want to do it? - No. Besides that, going on the camp for 10 days would mean I will miss the birthday of 2 important people in my life. One of them made me realise that yesterday. Hence I am cancelling the mediation camp and staying home to enjoy my well earned freedom with family. That being said, I do need to quiet my mind from time to time, so I will device a plan for that soon enough. It seems all the plans I should be making, I am not making and all the plans I do not even plan to make are being made all day long, yet none of the plans made or unmade are being followed.
Once in a while you have those days when you pretty much mess up everything? I had such a day today. Today a second person in my circle told me I write like a kid, my parents told me I don't drive well, I forgot to notarise an important document and sent it without a notary stamp, I forgot to book hotels for my MP trip and moreover got scolded by my parents for being on phone all the time. Quoting my dad's words, "For the past 2 days you have been all aloof, not paying attention to anything, just looking at your phone all the time". He or my mother will never ask me what's going on in my life and then throw such statements at me. I am perfectly happy not having to answer to them as unlike most parents, my parents are open to whatever I want to do, whatever floats my boat as they say. Ever since my big realisation since yesterday I am trying to set things right, but constantly failing at it. In 47 days I have been frustrated about a lot of things, but today was a terribly bad day I have to say. Things as petty as bad driving got into my head. These are the times when you just want someone to tell you your strengths and how you have used them to do something significant. The truth is that I have never done anything significant and that is one of the goals I want to achieve. Make an impact, make the difference, this is what I want to do and I will do it one day. Not today, not tomorrow but one day I will be making a difference.
The good thing about my brain is that it can relax quickly. I don't stay angry or upset for more than a few minutes, I have never really not-forgiven anyone in my life, and I don't hold grudges. So, I feel fine right now about the day, because when you have a sensible mind you can do the right things. Hence, while my parents were disappointed about how irresponsible I am that I sent the document without notarising it, I managed to get hold of the courier company and stopped the consignment to be sent out of my city and all this at 11:15 PM. This is what I am capable of doing. Call me narcissistic, but I am going to boast about myself today. The consignment will be at the office near my house tomorrow, I will get it back, get it signed and stamp by notary officer, and send it again. I have always been able to find workarounds and I am good at it whether it was Oracle implementation or situations in life. One day this strength of mine will come in handy and that day my driving skills won't matter because I will have my own driver and a rash driver for my parents. They need to know that their son is way better than the bunch of idiots out there.
That's it for Day 47. If you are here, so checkout my Apple Tip for the iOS 9.3 issue.
---
Day 48 - Mom finally lost it
While it was my father's turn to scold me yesterday, today was Devyani's. Yes, I call my mother by her first name sometimes out of love. She likes it too, I am just not allowed to call her Devi, that's reserved for everyone else. Devyani lost her calm and composed temper on me this morning. When I woke up, went to her and sat down to talk about my plans for the rest of the day, she began the speech that could honestly make you cry if you were hearing it for the first time. I am not joking, if you heard what she said today you'd hate me, you'd call me all kinds of names for being so heartless towards my mother. I listened peacefully because when your mother is scolding, you do not argue. Vidhi, if you are reading this, please follow the golden rule. She kept talking and I kept listening for about half an hour, after which I got up, freshened up and walked out to finish my work which by the way was what I went to talk about to her in the first place.
I can't thank my parents enough for what they do for me. I don't ask for favours, I don't ask for anything from my parents and they never give me anything unless asked except freedom, they give me freedom to follow any path I want. How many of you can call your mother by her first name? How many of you can quit your job and move back in with your parents? How many of you can joke about your parents in front of total strangers and find your parents laughing at it too? How many of you can tell your mother or father about your relationships? How many of your parents would be okay with your decision to not marry at all? They may not be the smartest parents, they are not the power couple, they are not even a normal couple, my dad is 58 and he stays at home enjoying retirement, but what they have given me is priceless. They have given me freedom. While freedom from parents is a right in the west, in India we all know it's not possible. Your parents will poke their nose in everything you do. So I feel privileged to have such parents and I can tolerate one scolding in 40 days and give my mother the peace of mind she deserves once she has spoken her mind out. Deep down she knows I am good son and my sister is the one she needs to worry about. Vidhi if you are still reading this, please don't call mom and complain.
So that's how it is. Although this being my diary, I am very selective about what I will write here. There are things happening everyday that I like to keep for myself. If I was to be a famous person someday and someone wants to write a biography of me, I might have to give me more than this diary. Interesting, I can maintain a private diary as well which I do not need to share to anyone, and like Ted Mosby name it "For my Biographer". If you do not know who Ted Mosby is, once again you have failed the test. Go google it.
That's it for Day 48. Today marks 2 months away from Poland, away from people I loved the most. I don't believe in fate, and hence I have decided that one day I will go back to meet my friends and that would not be as a work assignment but as a tourist. I have to make it happen, not fate.
---
Day 49 - India Lost the Semifinals
India is out of the world cup. I am sad, not too much because India lost, but because I had prepared so many memes that were wasted. I spent 2 hours in the afternoon thinking about it and preparing them. I am not born with talented humour so I have to rely on a lot of thought and guess what they weren't even as good as the last kinds that go viral and yet I made the effort. All wasted.
Nonetheless I worked really hard to upload memes from time to time and I was able to upload 6 new memes today on my Facebook Page. You can also check out all the memes in the memes page.
I would upload the unused memes but my internet is acting up today so I can't. May be tomorrow. It's April Fool's day and I finish 50 days of unemployment tomorrow. See ya.
Day 50 - The 50 day Journey Video
5 big chart papers, 2 markers, an iPhone and a lot of honesty went into preparing the video for Day 50. Today's diary log is a video log below.
I am just overwhelmed by the response from people. If you are reading this check it out.
https://www.youtube.com/watch?v=DwUtGqwRVXs
That's it for this diary.
Tomorrow we begin with a new one. I think I can do it. I can become an entertainer in the next 50 days. We will wait and watch.