Discover more from Naimish's Personal Blog
Blogging my mind off!
Daily Diary - The log of my life - Day 1 to 25
Update: I do Video Logs now. Check out my VLOGs at https://www.youtube.com/c/finallyjoblessvlogs Today is Day 38 since I am unemployed, I was putting up a post everyday, a new Diary post like Day 1, Day 2, Day 3. It was cluttering my website and hence I decided to have 1 post for 25 days. This is the first post, it's Day 38, here's to new way of writing the diary then. Although I have learnt a lot of new things now, I am keeping my mistakes as is while copying older posts here. It will help me understand how much I have achieved by the end of it.
You can choose to read from the beginning to end, scroll where you feel like going, or just click on the Days below to directly reach there: Day 1 - Introduction and BLOG Set up Day 2 - Fly back home Day 3 – Valentine's Day, fun with the little cousin Day 4 – Met best friend and brought back home my BB8 Day 5 – Review of the Blog and a visit to the farm Day 6 – Train, Poker, Wedding Day 7 – My first Story Day 8 – Reunion and Kathiyawadi Dinner Day 9 – Bye Bye Junagadh Day 10 – Sundays are to sleep Day 11 – Society Meeting Day 12 – Winning a bet Day 13 – A visit to a water body Day 14 – Dentistry and Cooking 101 Day 15 – Home comes the sister Day 16 – More and More Dubsmash Day 17 – Vidhi Decided To Stay Day 18 – When Your Mother Trolls You Unintentionally Day 19 – New Post and The Gist Day 20 – Sending Out The Invites Day 21 – Vadodara – Ahmedabad – Pune Day 22 – Pure Fun Day 23, 24, 25 – More partying Day 26 to Day 50
---
Day 1 - Introduction and BLOG Set up
Dear readers, today is my first day of unemployment. Yesterday on 11-Feb-2016, I resigned from Deloitte Consulting India Private Ltd, to pursue a break from work. That's right, I am jobless and voluntarily. Since being unemployed in India is considered real taboo, I decided to test it out. I look forward to write about my experiences and activities on the blog and share with the world what it is like to be on a break in India. As mentioned before it is taboo to be unemployed in India, and I already experienced it yesterday. From several comments on my Facebook post to personal messages, a lot of people asked me what my plans are and when I replied 'I am on break' they accused me of lying. I would say this is going to be an interesting year ahead. I say 'Year' because I have paid the rent of this website for 1 year only for now. Disclosure: While I am jobless, I am not moneyless, I have enough money to lead a comfortable life for more than a year and I do have backup plans. I just want to enjoy doing nothing for now; basically a temporary retirement.
---
Day-1 -  Setting up the Blog and packing to leave Hyderabad  I wanted to get my blog up and running but it will not happen soon, so I can say Day-1 of unemployment didn't go as planned. It takes a lot of work to setup a blog and a lot of help came from Howtomakeablog.com . I started off by renting a website host from Bluehost and then continued to make Social media accounts on Facebook, Twitter, and a whole new email address Finallyjobless@gmail.com. While all is setup now, I am still trying to figure out how to create a contact info and about me page. I am confident that I will be able to make the blog go live by 19th Feb, 2016. While I am not employed I do have some personal matter to handle. I just realised I have to prepare privacy policies and terms of use for the blog as well, as this is self hosted website. I have my flight tomorrow to go back to Vadodara and move in with my parents. I am really excited and worried about it. I have a lovely family but I have never lived them for a long duration, and that worries me. A lot of things will change for me and for them as well. I am not really sad about leaving Hyderabad as I didn't live here much and hence never got attached to the pearl city. I spent most of my time in Krakow, Poland ever since I joined Deloitte.
Riyanshi take a nice dive as an alternative to her IP (iPad) This is it for Day 1, I will sign off my posting one of my best memories with my little niece. I call this invention How-To-Keep-Riyanshi-Busy-and-away-from-TV. What do you think about my invention (Read: Reinventing the wheel)? Leave your answers in the comments. You can also get more updates and other reading and watching recommendations if you follow me on Twitter and like my page on Facebook.
---
Day 2 - Fly back home
Honestly, I am not sure if the title is accurate. When you have lived in many places, each of those places is your home. You have someone to look up to in that place, be it friends, family, pets, or even strangers that you dream to meet when you are travelling. So moving back to Vadodara is just a transfer from one home to another. The good part about home is all my memories are on the fridge in form of magnets, magnets I bought as souvenirs from the places I visited. The day began very peacefully, I packed everything that was left with some help from my cousin, met a friend who visited me at home and took off to airport. The reality of being jobless hits you at unexpected times. I bought a Dosa and a filter coffee (My favourite South Indian dish) at the airport and while paying the bill I realised that I am paying 3% of my monthly budget just for a breakfast. That's expensive, but you don't care when you have salary credits every month in your bank account. After paying the taxi fare and this Dosa bill, I think for the rest of day I have to rely on my Jet airways meal. Being jobless voluntarily is going to be a challenge if you are used to spending money without a second thought, or even for the people who spend more to just save time. It's just the beginning, let's see where this takes me.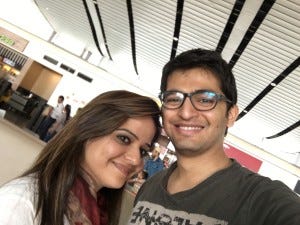 Vibhuti and I at Hyderabad airport Later, I received a gate change notification on my phone and hence I started walking towards the new gate. I had walked a few steps when I saw a familiar face, my friend from Infosys who I had not seen in last 5 years. She was visiting Hyderabad for a meditation camp and was going to Bangalore to meet some friends. It's always nice to catch up with friends from past. I was really happy to run into her and I was glad that she noticed on Facebook that I left my job and I am on a break. A lot of catching up later, she boarded her plane and we promised to keep in touch, I am sure I will keep the promise as I am Finally Jobless. In a moment all the joy I had about meeting Vibhuti transformed into worry when I realised my onward flight might be missed as the flight to Mumbai was delayed by 20 minutes. Thankfully I didn't miss my flight and I was home by 4 PM. In flight experiences are not worth sharing usually, an annoying co-passenger, a famous person, non-courteous flight attendants are now clichés, interestingly in-flight experience for me was a very unique one. When I stepped out of the loo I found myself between 2 service trolleys handled by flight attendants to distribute the meals. Here I am following the first trolley waiting every time the flight attendant would stop and give away the special meals to passengers. Too many special meals ordered I thought to myself. As if this wasn't enough, the flight attendant with trolley No. 2, bumped into me twice while I stood there waiting for trolley 1 to move.  The third time she was going to bump into me, I shouted 'Stop' and she stopped, and the rear crowd of passengers burst into laughter including the crew themselves. Finally, the flight attendants made way for me to move ahead and take my seat.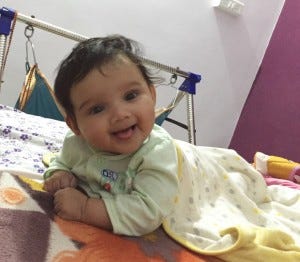 Happy baby - Krishika My cousin and his wife showed up at our doorstep, with their cute little 4 month old daughter. Daughters are the best blessings one can have and I couldn't agree more. This little one 'Krishika' is so cute and is always happy. She is crazy about her dad, giggles every time she sees him. Although she is not so fond of me right now and hence I couldn't take a lot of pictures with her, I am confident she will start liking me by tomorrow. That is how it is with kids right? After a nice mom-cooked meal, I am sitting here writing Day 2 blog still wondering 'will I be ready to go live on Feb-19?' Here's a little picture of the little baby 'Krishika' from the past. Signing off for today hoping that being finally jobless is still going to work for me.
---
Day 3 - Valentine's Day, fun with the little cousin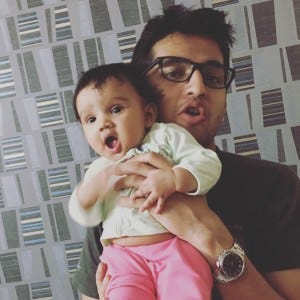 Little one
It's Valentine's day and it was hunting day for me, hunting for internet service and not the love of my life. Starting tomorrow I will not have internet access as my sister leaves and takes away the internet dongle with her. Although it wasn't the best of internet connection but it's better than having no internet at all, you know how they say "Something is better than nothing". This means my go live date 19th Feb for this blog can be significantly delayed and I do not like that. I will try to borrow my neighbour's internet while I finalise and buy one for me.
---
Day 4 - Met best friend and brought back home my BB8
Day 4 was quite full of travelling. I went to Ahmedabad to drop my sister Vidhi off to her college, and with her went my source of internet as well. I am using my neighbour's internet to post this. Thank you Manali and Kalpesh Mehta, you rock. I was going to meet my best friend Shirin Pillai, this chirpy born-South-Indian-brought-up-Gujju girl. Shirin and I met after 3 years. Her husband Kamal and I haven't met in 4 years I think. They live in Al Ain, UAE and we get to meet much less these days. 9 years of solid friendship is still going strong and will go on thanks to the awesome people we both are. I will be the God father of their child (This isn't official yet, but I will be). Shirin, don't you dare ditch me.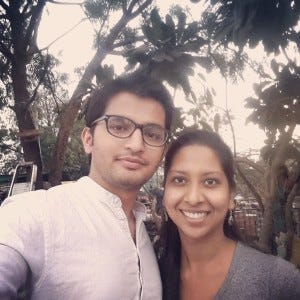 Shirin and I in Ahmedabad Shiru and I had lunch at 'The Patang', this one-of-a-kind revolving restaurant of Ahmedabad. We enjoyed the view of the beautiful city from tower, caught up on past 3 years of life, and discussed future plans in the lunch-hour. The most amazing thing about Shirin is that in the 10 years since I know her, 5.5 years since she got married she is the same size. She hasn't put on a single extra pound, I felt like a fatso in front of her with my tyre style waistline. How do you do it Shirin, just how? Not that I consider fat as ugly, I believe staying healthy should be the top priority of life, it doesn't matter if you are overweight or underweight by some printed standards, what matters is whether or not you are healthy. If a person is healthy, they will live a long life to share their wisdom, I plan to run this blog for the next 70 years to say the least. I can only do it if I am healthy. Next comes the lovely BB8, the astro-droid from 'Star Wars - The Force Awakens', I asked Shirin to bring one for me from Dubai duty free, and she did. Ofcourse, this $200 is a splurge but that toy is just a fan thing. The BB8 is tiny little ball running around in the house, good thing I don't have any pets or kids in the house to mess around with it. Here's a sneak peak on how it goes around.
How's my BB8? Quite eventful day I would say. Above all of this excitement, the strangest moment of the day for me was when a guy started watching inappropriate videos in the bus with full volume. My sister and I had a good laugh about the incident before she went back to her hostel. As she left, I get her purple room all for myself. There is just so much purple, from walls, to wardrobes, to bed and curtains, everything is just purple. My parents need to buy a house with a room for me, not their fault though they didn't know I will leave my job and start living with them. I now need to learn how to embed codes here using wordpress. I wasn't able to embed by Facebook post. Whenever I find myself in this position where I need to learn a new thing, I tell myself "Patience Naimish, Rome wasn't built in a day, Finallyjobless.com wasn't ready in a day, and you certainly were not born the day after you were conceived, you will learn everything eventually, do not worry" True Story!! Signing off for Day 4, May the force be with Finally Jobless!!! Kylo Ren, I promise you I will have more followers than you by the time your next movie comes out. Okay, too much exaggeration, maybe a billion or so less than you. Don't mind Kylo.
---
Day 5 - Review of the Blog and a visit to the farm
The ugly truth of life is no one can be perfect, the uglier truth is that we are the people who define 'perfect'. This means that we set the standards so high that it's even unachievable for us, the makers. This is Day 5 and I finally made the website live to a pilot audience, some of my closest friends and family members. I knew it wasn't perfect, I am not a writer, I am not a programmer, in fact I am not even an experienced reader. The reviews came in and it helped a lot. Some people gave suggestions to improve the writing and some suggested on improving the layout. I incorporated most of the suggested changes, but it's still far from being perfect, and this is when things get scary. The thought of not being able to achieve anything in life took over the original thoughts of the enjoyment of being on a break. Questions started popping in my head like "What if I never get my job back?", "What if I can never be an entrepreneur?", "What if I can never be a good author?", I had a mild panic attack. It also had something to do with a small fight with this girl on Facebook who said what she wanted to say and then ended her comment with "I will not reply to you anymore as this is beneath me". I wanted to reply to her but I couldn't come up with anything witty, smart or even remotely logical. The fact that I got involved in a political issue was itself unbelievable to me. I vouched to never get into a political debate unless I have investigated the matter myself and I am well aware of the situation from all vantage points. I got involved, I got shot down and I was also told that my grammar is bad. That actually hurt the most. It hurt because it's true and now I have to learn it, I really didn't want to make the effort but unfortunately I have to. As the chain of thought kept going, it started to sink in that this cannot be one of those hobbies which I picked up and left in few days. I need to prove myself, I need to continue Finally Jobless and also continue searching for my passion, a passion that will end up becoming my career. I am now more determined than ever. I will keep learning, evolving, and making Finally Jobless better and better till it's tending towards perfection. As for the girl who commented on Facebook, I am really glad she did. She is responsible for my determination. If the tables turn, one day she will be a regular reader and contributor to Finally Jobless.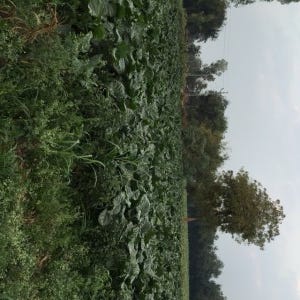 Tobacco Fields near Vadodara How did I have so much time to think about all this? Simple, I was driving. We drove to a pre-wedding dinner event in a farm, passing through several gorgeous tobacco fields and tiny small villages. If anyone wants to see the development in India, I will bring them here in Gujarat. There are proper roads, water supply and all villages are lit up without power cuts, that's the sign of development. The pre-wedding dinner was lip smacking which explains the over eating I did today unknowingly. My belly is twice the size right now as I am writing this post. The tobacco fields were very pretty, they were the perfect example of 'All that glitters is not gold'. Tobacco looks so pretty when lush green but it's a leading cause of throat cancer in India, elsewhere surprisingly it's oral sex. Tobacco is used to make the deadliest of the addictions available in the market openly in forms of Cigarettes, Gutka and other harmful items. What do you think about the lost-post-less-pictures today? Leave some comments.
---
Day 6 - Train, Poker, Wedding
Early bird catches the worm, in my case early Naimish catches the train on time. We were going to Junagadh in the 5:50AM train. Junagadh is where I was born and lived till I was about 10. After my grandparents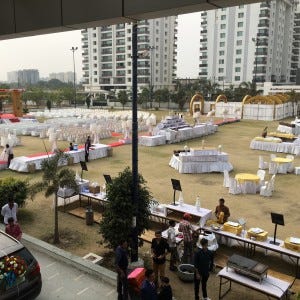 Venue is ready for the wedding, about an hour before the Baraat passed away, my parents moved to Vadodara. I usually love train journeys but early morning train journeys are not my cup of tea. We managed to board the train on time and as soon as I found my seat, I lied down and dozed off. I was going to get off in Rajkot to attend my school friend's wedding. I managed to get down, take an auto rickshaw, get to the wedding location a full 2 hours early, only to find myself walking into an empty party plot. I called the groom who informed me he was out to get ready for the evening and asked me to walk to the building ahead, put myself in one of the rooms and rest or watch TV. So there I was, in a city I know nothing about, at a wedding location in the outskirts, walking towards a building where I have to look for a room to sit and wait for the groom. I did exactly as informed and ran into a bunch of guys who happened to be college buddies of the groom. We got acquainted and made ourselves comfortable in one of the guest rooms. Soon, a set of cards was brought and everyone was settling down to play the Indian version of Texas Hold'em style  3-Card Poker (Teenpatti).  I joined as well, I know how to play poker, I love poker. I was confident I am going to bluff and win, but rules were put in place so that the very same thing that I planned to do cannot happen. They put a limit on bet, hence it made no sense in bluffing because you cannot raise it beyond 20 INR, anyone can afford 20 Rupees (.3 USD) for each bet. I realized there is no way I would win with the other 9 players and I should just skip, but I didn't. Well, when we wrapped up I had lost 300 rupees in total. Kids, do not gamble. It's not good. You will end up losing always.
The groom - Bhavin (Centre) dancing in his Baraat There is a ritual before wedding which we call as 'Baraat' or in Gujarati 'Warghodo',  where the groom along with all the people invited from the groom's side come to the wedding venue with a band, dancing and bursting crackers. This is always the highlight of the wedding day if you are from the groom's side. I enjoyed the dancing a little too much, my feet are still aching after 7 hours. After this, the groom entered the venue and believe me when I say this "He entered and vanished". I have no idea how or where he went even though I was right behind him. About an hour later he emerged out of nowhere, I only saw him when he was walking towards the stage. While he was busy getting married, his college friends and I dug into the dinner that was being served simultaneously on the other side. Once done with eating, we went to the groom congratulated him, surprisingly only I congratulated the bride as well and left. All the time I was sharing the pictures from the wedding to all other friends from school who did not make it to the wedding. Technology is mesmerising sometimes, although only one person attended the wedding over a 100 people knew what was happening there, thanks to a simple whatsapp group. One of the college buddies of the groom dropped me off near the highway. I took a bus from there to Junagadh and decided to write the post while on the way. I can't wait to get to the hotel and hit the sack, there is no chance I will be able to open my laptop and write a post. It's going to be an early day tomorrow as well. Day 6 turned out to be super eventful, thanks to the break from work, I could enjoy it. How do you find my blog, leave your comments below. Cover Pic: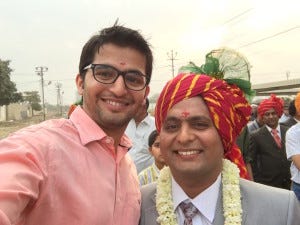 ---
Day 7 - My first Story
It's day 7 and I am in Junagadh since yesterday. Today I was busy as a bee and hence I am late in posting this blogpost. I spent all my time sorting some personal matters today. It is going to be a short post as not a lot of interesting things happened today. The funniest moment of the day was when my mom was segregating a stack of coins by their denomination, I came and mixed all the coins. She was annoyed but started laughing, had it been my sister instead of me, she would have been dead. It's funny how some things are so typical with parents. For instance, my parents would never call me unless they need to talk to me about some urgent matter or we haven't talked in many days. However they make it a point to talk to their daughter every single day. I am not complaining, I am very happy with our little arrangement but this is just the way things are different for both of us in our family. I always get away with mischiefs because I only visit my parents once in a while, but since she is is stuck with them, she never gets away with her activities.  In other news, after the reviews and suggestions from everyone I am writing my blogs with better grammar, atleast I believe so. Tomorrow I will inform everyone on Facebook about my blog, and hope for a good traffic on my blog. In all seriousness, it's not that interesting as it is just a man's diary. However, I have good ideas and plans in my mind to improvise it with every passing day. For example, today I wrote a story too, not the conversational stories that I write on 'Not So Small Talks' but a proper short story. Click here to read 'The Loyal Servant'. I hope people enjoy it.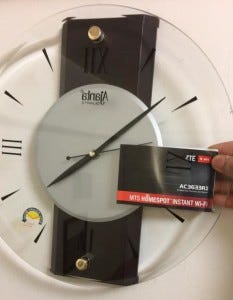 Do you see the inverted letters on the clock? Interestingly today, I looked at the clock in my hotel room and it seemed to be flipped. The hands are moving correctly, but the glass plate that shows the time is inverted. Check out the picture. I also kept a booklet in order to prove that I haven't doctored the photo. I also put a Facebook post, but people seemed to think I edited the picture. Well, to each his own right? How do you like my blogging so far? What can I do to make it more entertaining? Do you have suggestions? Please leave them in the comments below. That's it from Day 7. See you tomorrow.
---
Day 8 - Reunion and Kathiyawadi Dinner
I am worn out now and I really want to go back to Vadodara from Junagadh. There is no internet in hotel, my own internet dongle is not able to provide any speed and the 3G limit on my mobile is now exhausted. The only way I can peacefully write or research online is when I will connect to my neighbour's internet in Vadodara, apologies Manali. Call me a free loader but I have given up. The broadband company said they will give me a new connection in '15 working days', that's 3 weeks, I hate these corporate jargons like 'WORKING DAYS', hence I am stuck with these slow internet services that are already costing me a bomb. The good thing is that we are leaving tomorrow morning, and once again the journey is in a train. More train posts coming soon. Day 8 was a lazy day for me, but it got intense towards the second half when I discovered that trading of birds and captivating them as pets is illegal in India, but sadly it prevails. Later I called up my buddies from school and made dinner plans. These are the guys I grew up with. We drove 25 kms from Junagadh to have authentic Kathiyawadi cuisine (Kathiyawad is the region on the western peninsular of India in the state of Gujarat, Junagadh is part of the region). The food was terrible, but the conversation was nonetheless entertaining. Smit, Paras and I have known each other since our days in kindergarten. We make it a point to meet every time I am in town. We already started planning a trip to the beautiful Diu. The plans are not concrete yet but I really need to make the most of my break and enjoy the freedom to hit the beach.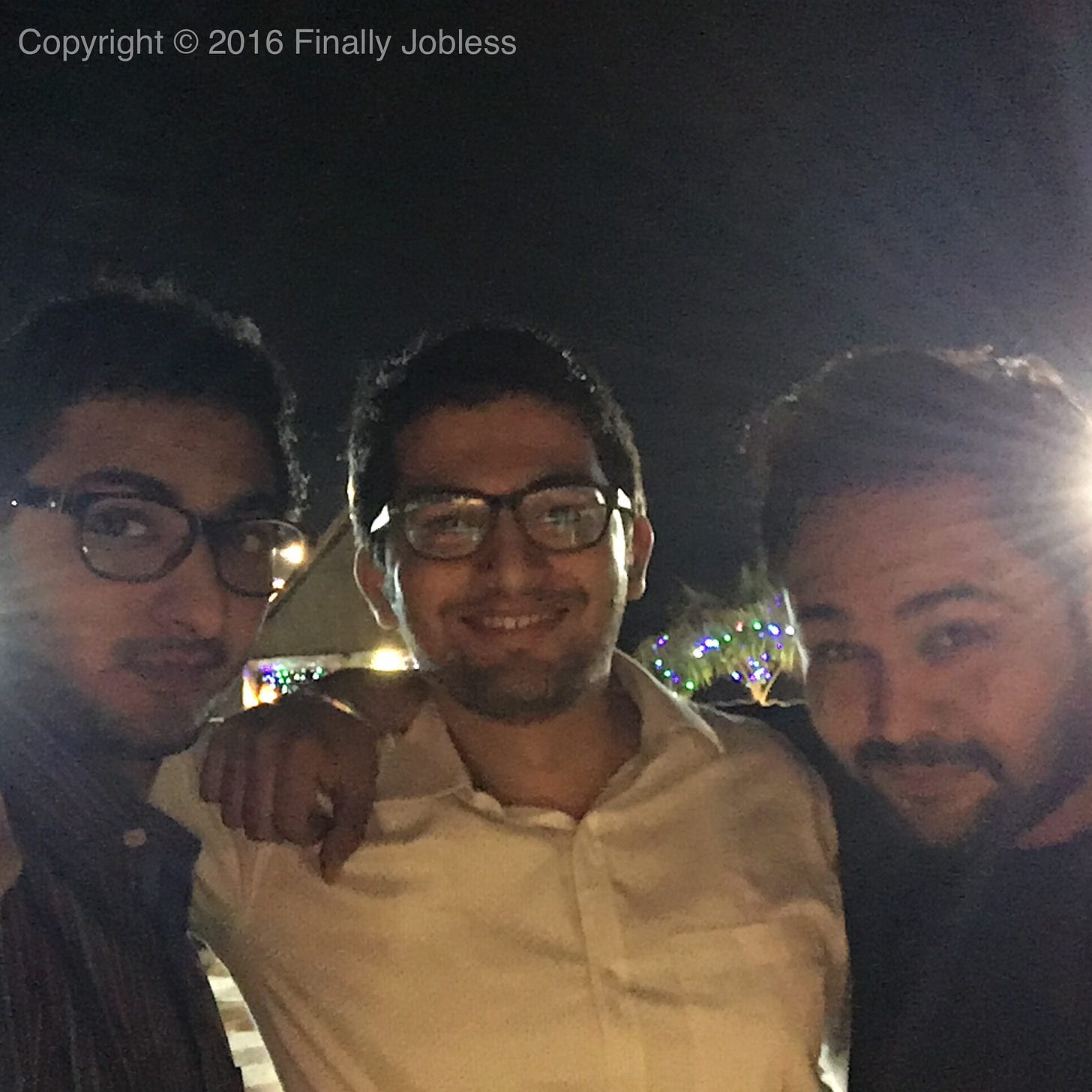 From left: Paras, me, and Smit Times change. From walking to school to driving cars now, all 3 of us have learnt new skills, are passionate about different things and the most important of all, we are able to discuss everything like mature adults. Every now and then, the kid within you takes over and you start pulling each other's legs, but otherwise you will find yourself talking about issues, politics, sports, movies, music, etc like a normal adult. The child like innocence is no longer there but it doesn't mean you don't care. You care about your friends as much as you did when you were younger, but now you only show what is required as per the social norm. Greetings, hugs, 'asking-about-family' truly mean nothing compared to the high fives and slaps which you shared when you were little. That's it for Day 8, I need to sleep now as I am really tired. Anything else on the blog would just be a mumbo-jumbo of words coming out of a half-dozed out mind. Thanks for reading, leave your comments below. Cover Pic: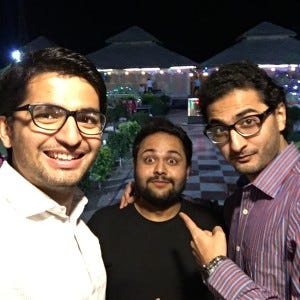 ---
Day 9 - Bye Bye Junagadh
It is day 9 and I am back home in Vadodara, back into the purple room proudly decorated to taunt me that this is not my room but my sister's. As much as I love my sister I hate the fact that she has a room and I don't. When she comes back I will pack up and move to the guest room. It's hardly fair to me but I can't complain because stay-at-home son was something I didn't plan for myself. Nevertheless, I am happy to be back and guess what, the dongle is working like a breeze, I did not have to borrow internet from my neighbours. My elation is out of proportions. There are 2 things I captured on my phone before I left Junagadh
No one on Tinder today. Tinder and parking signs. For those of you who do not know what Tinder is, I recommend you move to paragraph 3. There is no need to learn about it now. Seriously, skip to para 3 you will not lose anything. According to it's official website Tinder is where Friends, dates, relationships, and everything in between start. Now you can go download the app. I have tinder on my phone, I use it from time to time, I never intended to score a date. I only started using tinder to find out what people were talking about. Curiosity got the best out of me and I switched on Tinder to see who I might find in Junagadh, the answer is NO ONE. Yes, not a single female soul uses Tinder in Junagadh. This town probably haven't heard of it or they are too shy to use it. Check out the message Tinder threw me while I was there in the screenshot above.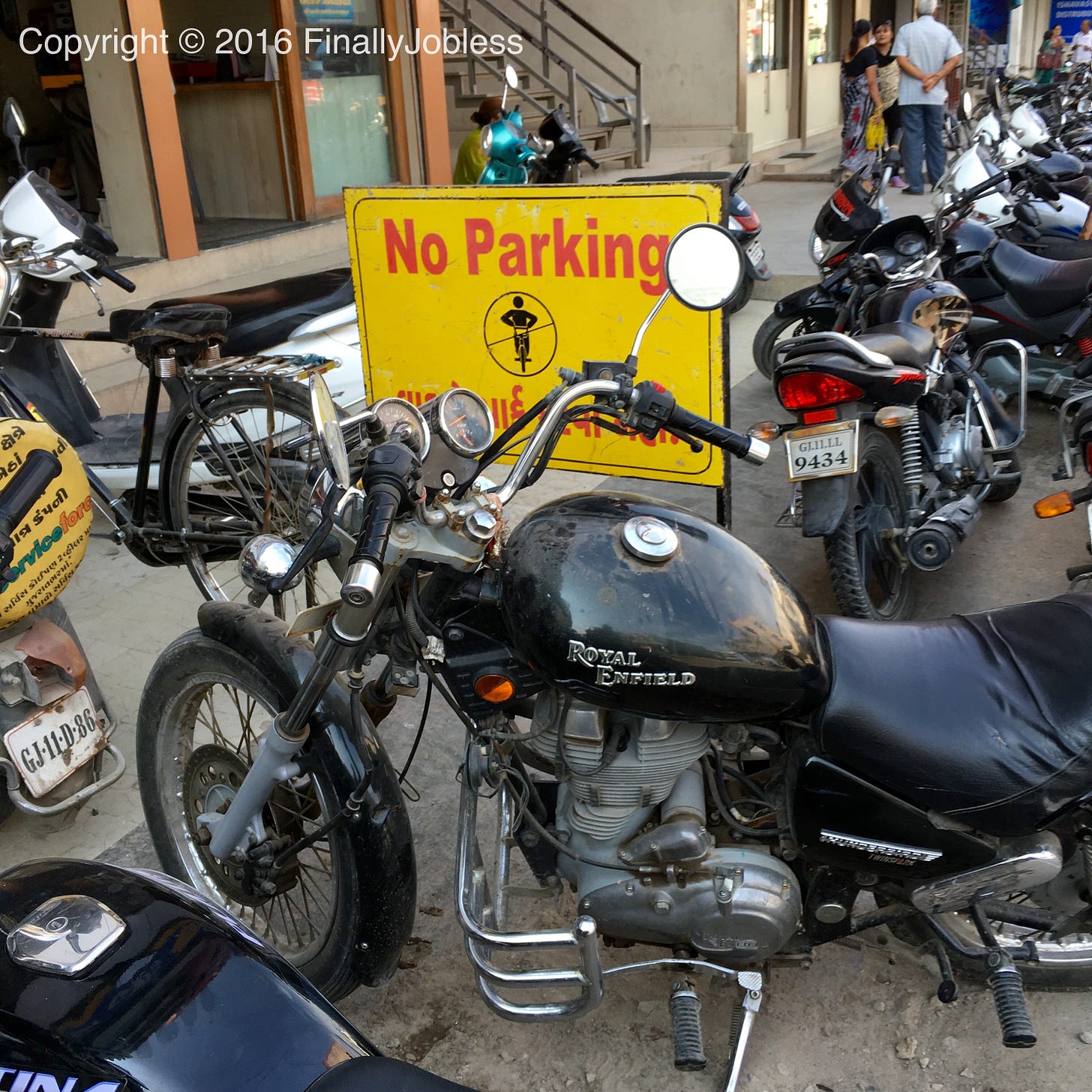 Bikes parked without any respect for the sign. Next comes the parking signs. Signs or no signs, the people don't give a damn. Not only in the picture here but anywhere you go it is very likely that you will see vehicles parked in No-Parking zone. It's annoying to navigate through these vehicles when they are blocking your way. I couldn't even walk on the footpath because of this today.  This is not the only thing wrong, I could prepare a list of wrongs but they are pretty common with the rest of the cities. Spitting on streets, peeing on streets, jumping red lights, honking crazily, no helmets, no seatbelt, no care for pedestrians, are just some of these bad habits we have. We Indians need to learn the right things from the west and stop these shameful acts, it's for our own benefit. I will soon be back in Junagadh and for a longer duration this time. This is goodbye to Day-9, all I did today was edit my posts as per suggestions from Shirin, Sweta, Bhargav, Katya, Amith and a few other friends (You will soon find out who they are if you don't already know). Tomorrow I begin working on share links and layout for the blog posts. How did you like my Day-9 diary? Leave your comments
---
Day 10 - Sundays are to sleep
Indeed, lazy days like Sundays are necessary to maintain a healthy work-life balance. In my case, it is healthy Social Media-Life balance. I have been spending every free second on social media watching every useless videos getting uploaded, every nuisance of a post getting shared and every picture that my wall offers to show me. I literally saw everything on my wall. I do need a break from it but can you actually run away from it? No, you cannot. I woke up at 11 AM today after repeated insistence from my lovely mother and sat down on the breakfast table. My dad looked at me in disgust for not waking up early and said "How much longer can you sleep?" to which I replied lazily "I can go back to bed to find out". I expected him to be annoyed but surprisingly he laughed and so did my mom. Sundays do cheer people up I thought. I drank my glass of milk and was about to get up from the table when dad announced the news about the riots in Haryana. I wanted to paste some links here but I seriously want to keep my views to myself this time. I spent the rest of the day reading and watching news about the Haryana riots, JNU issues, and Media bashing, no break from social media even on Sunday. I fell asleep in the afternoon again and woke up in the evening around 7 PM, I am awake as an owl right now at midnight and no one but I have myself to blame for it. Each day is the same for me, I have no work and that's why now I need to make a routine for myself. A routine that involves getting up and going to bed on time, exercising, eating healthy food at regular intervals, and doing something intellectual like reading a book. Ofcourse I have to make time for FinallyJobless too. I have to basically put a check on my break for my own sake. We also had some unexpected visitors at home today, volunteers from 'Save the Children' organisation- an NGO in support of underprivileged children. While my neighbours contributed, I had to politely refuse. I had been donating to a children's NGO from my salary until January and my parents are also supporting some other organisations themselves. Letting them go without making a donation was not a satisfactory move, but a person cannot commit to another charity when his own income is tending to zero and you are living off of your bank balance. I congratulated the volunteers for their effort and wished them luck with other residents. For the other part of the day I booked hotel for my parents' trip, booked tickets for 'Neerja' and booked tickets for my Pune trip. With this my credit card is on the verge of being maxed out. If you like you can donate some money for paying my credit card bills. That's it for Day-10, what do you think about it? Let me know in the comments below.
---
Day 11 - Society Meeting
Thanks to my super human abilities to sleep all day, I couldn't sleep all night yesterday. Hence, I stayed awake till 6 AM hovering in my bed and thinking about what else I can do with my blog. I decided to implement a few ideas today but I couldn't once again, because of my laziness. I guess I need the fire under my ass to get me going. However, even if not for Finallyjobless, it was still a productive day for me personally. I finished my bank related tasks, reached out to everyone I needed to talk to for the past few days, and finally attended the society meeting. It was one of a kind experience for me. One person (usually the elder male) from all the apartments get together to decide what needs to be done for paying the bills of common expenses like Security, Elevators, Cleanliness, and other such expenses. In my mind I pictured an intellectual discussion on the pressing issues of the building, I was wrong. Although intellectual, it wasn't discussion, it was pushing each other's ideas. This happened in the beginning, later people did start coming to consensus about the expenses and issues, but to see the people show their discontent with the committee leaders' decision actually blew my mind. In a matter of 2 hours, I realised I cannot be a leader, I would be slaughtered by my followers/subjects. Overall, it was a productive meeting with unhealthy snacks like 'Samosa' and 'Jalebi'. I tried to pitch my ideas a few times, which to my surprise were received well by the people, democracy exists. My mother came to talk to me about another matter, I took the chance and left the scene. My dad stayed till the end, after all I was just a spectator, he's the one who was needed. Low light, mosquitoes, unhealthy snacks, raised voices, unheard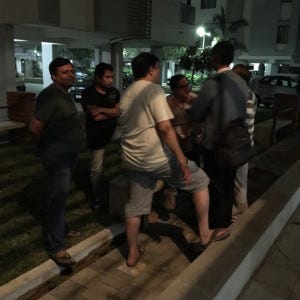 Apartment owners discussing issues with our building. opinions, and yet one united family came together for this month to manage and maintain the complex we live in. Here's a picture of a few people discussing the issues. Lazy day but it's almost over. How did you like it today? Leave your comments below.
---
Day 12 - Winning a bet
Day 12 was probably one of the best day since I left my job because I won a bet against my sister. I love my sister but I never miss a chance to make her angry or annoy her. It can be as simple as telling her that I used her favourite tooth-paste to a more pressing predicament- winning a bet against her. She lost 100 bucks and guess what, I took it from her without any kind of hesitation. Technically I took it from my mom who is going to pay her 100 bucks less in her pocket money, but I got her pissed and that was the intention. I will probably laminate the 100 Rupee note and keep teasing her for the rest of her life.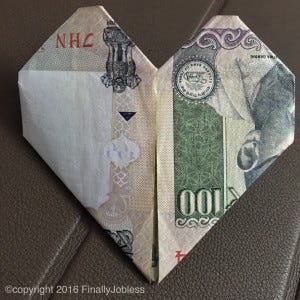 This is the heart of the winning bet money Here's one look at the ordinary 100 Rupee note in the shape of a heart with terribly straight edges. Vidhi Sanghvi, picture your bro in the evil laugh 'Ha ha ha ha' as you see this. The next part of the day was spent on writing about Neerja. I am not a religious person but I do read and watch religious messages and programs to understand the philosophy behind a teaching by these religions. It gives meaning to your actions and a purpose to your being. I found Neerja's life was relative to one of these teachings and so I was able to pen down the blog 'Life must be huge, not long'. We later visited our relatives but I was too busy getting my post ready that I didn't talk much to anyone. I did explain them about my decision to take a break and promoted my blog to them as well. Later I worked on the setup of Finallyjobless as I planned to. See those sharing buttons below? Well, they were added today. A very satisfying day I would say. I have realised I am not doing much on a daily basis and hence these blogposts are getting smaller and smaller. Tomorrow I will start teaching my mom to drive, that will be a beginning of a new story. I have some more plans for the website that I can try doing tomorrow. That's day 12. Share your views in the comments below. See you next day.
---
Day 13 - A visit to a water body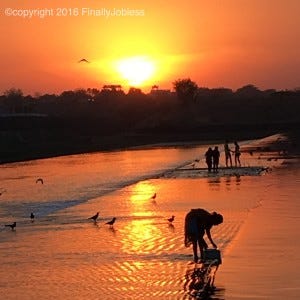 Couples enjoying the water in the background. Lady collecting water in foreground. There is a very nice place about 15 Kms away from our home, it's a checkdam in a village called 'Sindhrot'. They also have a Facebook page dubbing it as the 'Heaven of Vadodara'. This is the usual getaway place for all the lovers in Vadodara. On any day of the week you will find the madly-in-love couple holding hands and walking across the dam's surface, enjoying the flowing water over their feet and planning about their future. Occasionally you will also see some couples embracing themselves, locking lips, or just holding hands and sitting on the rocks talking. I have lived in this town for years and today is the first time I went to this place. I saw few kids taking a dip in the sea, they were school kids, I saw them dressed in their uniforms later which made me feel incredibly old. I finally chose to focus on feeding some biscuits to the stray dogs and eating a corn myself. I had no intention of going into the water and I wanted to keep it that way.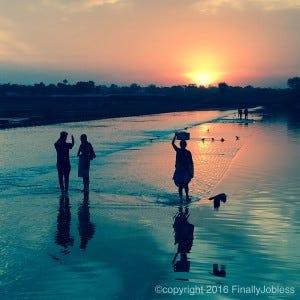 A couple enjoying the view while a lady carrying water for her family The most breath taking moment for me was when I saw a woman filling up a container with water on one side and on the other side was a couple carelessly talking about something. The water that was giving joy to the couple was also going to quench the thirst of the lady's family for the day. It's a lesson to learn for us humans who waste natural resources like water without giving it a second thought. Nonetheless it was a beautiful place and I'd go there more often now just to get away from the city and have some peace. In other news, I couldn't give my mother a practice lesson with our car because she wasn't feeling well, so I utilised the time to catch up on my favourite TV shows thanks to the Netflix subscription. I also added some widgets to my blog, you must have noticed the right sidebar by now I guess. I do not share this diary logs to anyone, I just write them for myself. However they are still open for people to read, you never know someone would see the inner beauty of it and purchase my diary to write a novel. Tomorrow I will start reading a book that I have had for months now - 'Shantaram'. How did you find my post? Leave your comments below.
---
Day 14 - Dentistry and Cooking 101
I went to the dentist today. Although I hate going to the doctors, I like going to this dentist recommended by my mother. He's funny, knows what he's doing, and he's a no-BS doctor. I had a root canal treatment done with a dentist in Hyderabad. Apparently it wasn't done properly and a good part of my canals were left unfilled hence prone to infection. I suffered acute pain while I was in Turkey and the local doctor diagnosed this infection in the unfilled canals of my tooth. Needless to say I was furious at my dentist, but I have come to terms with it now. As tired and annoyed as I am I realised that dentists or doctors are human beings like us and they can make mistakes too. I happen to be the victim of one such mistake. All is forgiven now and I have to wait till the 2nd March for my next appointment where he will further complete my re-root canal treatment.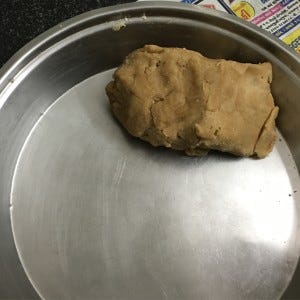 This is my artistic work of making a dough. I was bored in the evening so I decided to learn a thing or two in the kitchen. My mother makes one of the best 'Bhakris' - a type of Gujarati bread and I wanted to help her make it. Actually it was the first step in learning how to make it. She gave me the flour, oil, water and asked me make the dough. I won't say it was as easy as it seemed. It requires energy to make dough especially 'Bhakri' dough. My wrist was paining for a minute after I completed. Well, I was able to make the appropriate dough with correct hardness to make delicious Bhakri. I also learned how to mix spices and stir fry lentils to make a delicious lentil curry to go with the bhakri. Since I already know how to make rice, I didn't have to learn that. I am ending the day with a new story draft I prepared which will be reviewed and posted soon on Stories. That's a teeny tiny day 14. Leave your comments below and let me know if you find my efforts of cooking commendable or not.
---
Day 15 - Home comes the sister
teaser from our small Dubsmash compilation My sister is home for the weekend, which means I have company of someone who is close to my age and in whom I can confine. Although a little childish around me, she's a mature understanding girl who somehow just can't stop buying earrings. She came home today to meet me before I leave for Pune next week. We talked about her plans for the last few days in college. My sister and I share a very practical bond. We don't poke nose into each other's life unless the other asks to but when we meet we create havoc in the house. For instance, today we decided to shoot the first video together for FinallyJobless. Since we didn't have plot, editing tools, or background score, we dropped the idea of originality and switched to Dubsmash. We have nice little compilation prepared but it's not getting uploaded to youtube due to the terrible internet service that my data card has to offer.  I will find a way to put it on the site tomorrow anyhow. Stay tuned for more videos in coming days.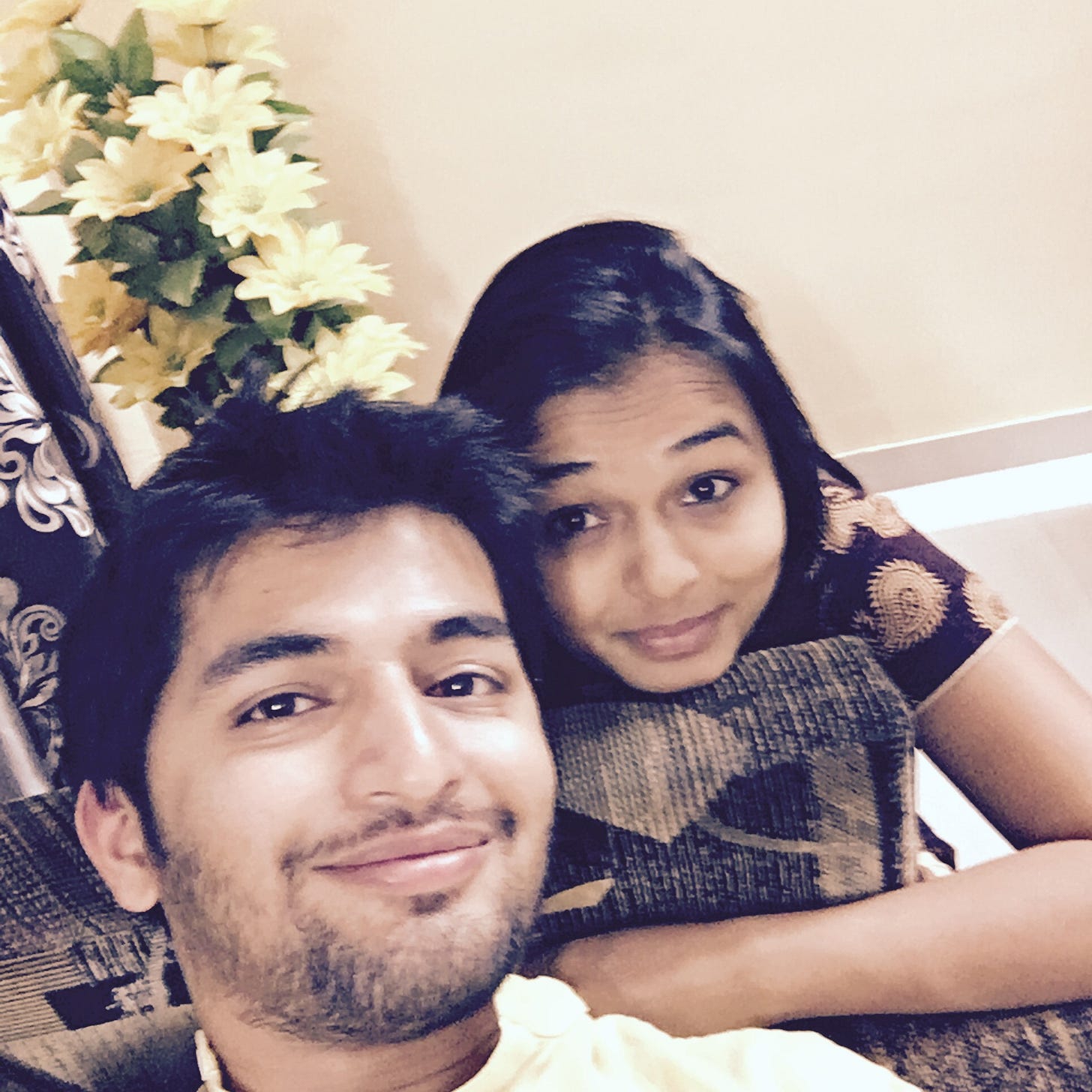 My sister Vidhi and I Around 11 PM we decided to go for ice-cream. While returning home, my mother decided to drive to which my sister replied, and I am quoting "I am walking home". My mom drove pretty well but I had my hand on the front brakes just in case. We reached home safely. Today I have been kicked out of my sister's room so I will be sleeping in the guest room. Yes, we have a master bedroom for my parents, another bedroom for my sister and the 3rd one for guest, which is me. There is no room designated to Naimish. He was supposed to always be away. I made my sister read my stories by force and she enjoyed them. She found out that I wrote 'Resolver' instead of 'Revolver' in the latest story. That's it for Day 15. Leave your comments below if you have suggestions on my daily activities.
---
Day 16 - More and More Dubsmash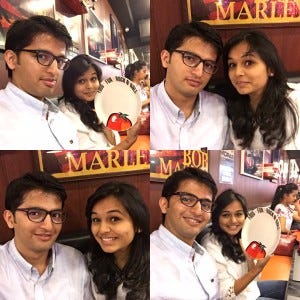 Vidhi and I waiting for food at Tomatoes. It seems like our newly acquired hobby has been setting storms on social media (read: only mine and my sister's friends like it so far) so we continued to make more Dubsmash Videos. It's a nice idea to pass the time and we love doing it. Honestly, it isn't very easy. My sister and I do several takes at times to get things right. I mainly focus on her acting, because I know I am not very good at it. Getting everything right like Is the background okay?, Are the expressions okay?, Are we lip syncing correctly? and all such questions take time. The results are both interesting and awwwww worthy. While getting that done, dining outside, and the India-Pakistan match, I couldn't write Day 16 diary note on Day 16. I am atleast 12 hours into Day 17 when I start writing this.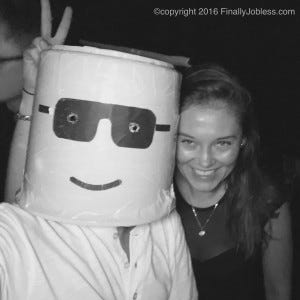 That's Dominika and me at a club in Krakow, Poland. Vidhi and I make a good team, she is energetic, intelligent and appreciative. It makes it easy to work with her. She is also an actress, event manager, co-ordinator and a good anchor, everything but what her college degree will say - 'Bachelor of Business Administrator'. We spent half an hour alone practising 6 seconds of Polish dialogue to make one dubsmash Video and uploaded on Facebook. This was a challenge from one of my closest friends from Poland Dominika, we are siblings from different parents, countries, and continents. We worked together and partied together as well. Not just the 2 of us but the whole work-gang in Krakow. Every Friday or Saturday we would be out and partying. I miss those days in Krakow. We also went to one of the most expensive places to eat in Vadodara. I never thought that there could be a place like this in Vadodara, for me Gujarat has always been a non-fancy state. Interestingly the food was really good, or maybe just that we had to wait outside for an hour made us too hungry to understand whether the food was truly good or not. The good thing about family dinners is your parents pick up the check and you just sit there and take selfies with your sister. I love dinners where I don't have to reach for my wallet. After all I am a Gujju. We got home close to midnight, and started working on a new video. It will be uploaded soon, stay tuned. Like our Page for updates. Day 16 is over, Day 17 is 50% over, I will be sure to post on time going forward. It's not that I care about the delay, I care about discipline. How did you like my post? Leave your comments below.
---
Day 17 - Vidhi Decided To Stay
Vidhi was supposed to leave today but then suddenly I came to know she's staying till morning. In about 2 hours, it was changed to tomorrow afternoon, which is Monday the 29th. Today was once again Sunday and hence a relaxed lazy day. I spent the day on my phone on the couch. I figured out that if I upload the short Dubsmash videos on Instagram, they should be good and entertaining. What I don't know is how do I get my Facebook friends to follow me on Instagram @FinallyJobless. I will figure something out.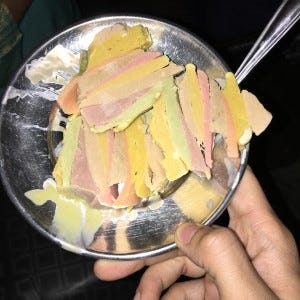 Kulfi - All the kinds together. In the afternoon we left home for shopping, when we had just reached about 200 meters from home the car broke down. It absolutely won't start even after by pleading, praying and kicking. Today unfortunately was a Sunday and we had to find a mechanic on Sunday. Thanks to my mother who somehow remembered that there was mechanic nearby, we got him to come and revive our 8 year old 'Rampyari'. The car is now lying in the parking lot waiting for a new battery. We had home cooked dinner today, mom made something called as 'Rasia Dhokla' and I am sorry I don't know how it's made and I cannot google it for you. After dinner had 'Kulfi' Ice-cream which I guess is responsible for the sneezes that I am having right now. We finally got tired of making Dubsmash videos, not really tired but we just ran out of ideas to do something. Eventually we got into difficult dialogues and that's when we hit the limit of our potential. Now, Vidhi and I need a lot of practice to remember the dialogues and deliver them precisely with the recordings, we are taking this way too seriously and I am afraid it will not end well. I just hope she leaves peacefully without a fight with me on something. Nevertheless I will continue to make Dubsmash videos with my parents, neighbours and friends while I am roaming around in India. That's it for Day 17.
---
Day 18 - When Your Mother Trolls You Unintentionally
It's Day 18, Vidhi went to Ahmedabad, we are planning a trip to Kerala, and we had Vadapav for dinner. The most important part of the day was when I ate those delicious Vada-pavs. I actually never really figured out how to make those, so went through the recipe today. Cooking 101 by mom did not include Vada Pav so I had to ask her to add it.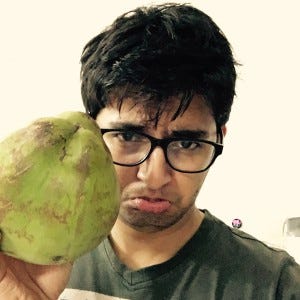 My empty Coconut. My Dubsmash partner in crime is now 100 Kms away and I can't make sibling videos anymore. However it's time to take a step back, because there is just too many videos on my phone now and my recent uploads aren't being appreciated as much as the initial ones. We will think about making our first original video when I am in Pune. It will be fun. The last time my friends and I made a movie was 3 years ago and it never made it to youtube, if I were to look for it now and if found, we'd still try to release it. It's only been a few hours since my sister left and I already miss her. Although it does help because I get her purple room back to myself, I hated the other room's bed. Now that she isn't here, we find the house a little too quiet and just now she called to inform us that she has reached safely. Another funny incident that happened today was when I wanted to drink coconut water. I took a tender coconut, cut it, and poured out the water in a glass. I saw my mother and I wanted her to taste it you know out of respect, so I took the glass to her for her taste a bit of it. She drank the whole glass and said 'Thank You'. My utter disbelief and shock also went unnoticed as she resumed talking to my dad on some topic I didn't care about. With a sad face I came out of the room, sat down on the table and started updating my website. She still doesn't know this, and it will be fun if someone reads it and decides to tell her. Vidhi, I warn you if you are reading this don't you dare snitch out to mom. If you are a visitor to my website, well you must have seen the changes on the front page. I spent few hours searching plugins to get my Instagram and Youtube feed on my website. On top of that I now have to focus on getting 100 subscribers to my Youtube channel so that I can get my own URL, like youtube.com/finallyjobless. Currently there are a set of conditions to achieve that and one of them is to have 100 subscribers. So if you are reading this, please be kind enough to subscribe to my channel. That's it for Day 18. I can't believe it's been 18 days since my unemployment and all I am doing is nothing but updating status and taking pictures.
---
Day 19 - New Post and The Gist
Interestingly, I wrote a blog about Honking and due to my poor editing skills, it became too long. Now, because of my never ending emotional attachments to long posts, instead of making it short I made a Gist of it and published it too. From here on, if I make a long blog post, I will also make a short gist of it for people who want to read a shorter version. This is of course a lot useful when I start getting more followers and people begin sharing my blog. Talking about sharing reminds me that finally I installed a plugin with floating Share-buttons that you see on the left side now. This eases the sharing process for readers and for me as well. It also shows a sharing counter so we know how many times the post has been shared. In other news, today is the 1st day of the new month and in the last 2 years this is first time I do not have to worry about 'Month End Close' - the process of finance close which gives us nightmares. The users were comfortable when I left my job and now they must be enjoying their new system that we built. For me the day was peaceful and I finished a lot of tasks that I had to do. The most unfortunate news from today was when I was told that the internet service provider that I registered with for a new broadband connection have cancelled my subscription due to feasibility issues and I haven't even received the refund yet. A new hunt begins tomorrow for a reliable Internet service so that I stop paying for the highly expensive 3G data card and watch some youtube videos and stream Netflix without worrying. Our society is full of little kids. Everyday I go downstairs I see kids playing some sport and I try to show off by joining them and being better than them. They are still unaware that I suck at sports, for them I am a coach. It's also a difficult job because they look upto me for resolving conflicts and that's when I feel like running away. You do not want to upset one kid by giving a chance to another. I wonder how does a teacher manage to achieve this. Soon the kids will be busy with exams and there will be no more noise. Thank you schools for that. That's it for Day 19. Day 21 will be in Pune.
---
Day 20 - Sending Out The Invites
It's been 20 days since I left my job, created this website and created my other social channels. Today I started sending invites to people I know for liking my page on Facebook. The response was really good, in just few hours I had 100 likes already. I also created a cover photo for my page. It isn't the best photo but it does its job, which is to show what I like to do, read, chat, make videos, play with my droid, play Board games by myself, and finally just sit there and wait for people to send some comments. I love this unemployment, no pressure at all about anything. I wanted to prepare a nice pic with edited images of all the board games and other items I have but I realised that I am terrible at photoshop when I started choosing a background. Hence had to move to an older method - Photograph.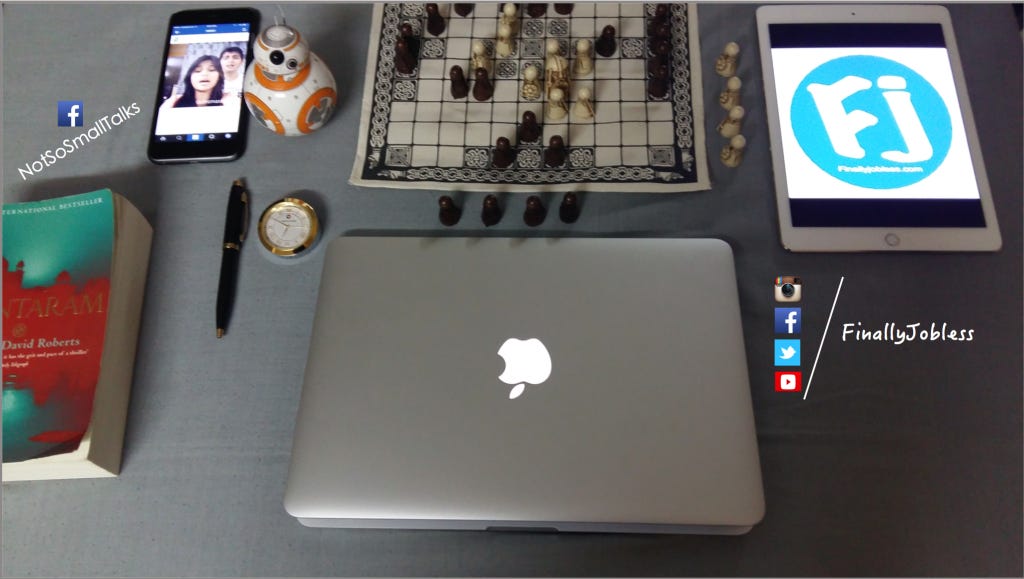 This is the cover page! My internet dongle gave in today, it just stopped working. Yes it just stopped working. All of a sudden there was no light on it and it's been dead since. Somehow my good luck has run out when it comes to Internet. I have spent so much money on the internet I can't even begin to count. I also don't have to count because ever since I have left my job I have kept an account of every penny I spent, except ofcourse the food which is provided by my lovely parents for free. Today also marks a full month away from Poland. I miss Krakow a lot. I miss the snow, the summer, the places and the people. I miss my friends and also my workplace, that's where most my friends are anyways. There is one person I miss the most in particular. She was truly responsible for making my 2015 as amazing as it was and a month ago saying goodbye to Poland and her in particular was the one of the most difficult tasks I had to handle. That's it for Day 20, with 64Kbps I completed this post in approximately 1 hours, 45 min went in uploading the picture. Tomorrow I go to Ahmedabad and later to Pune, can't wait for the reunion. See Ya!!!
---
Day 21 - Vadodara - Ahmedabad - Pune
Today's date is of significance in my life. 2 Years ago, on the same date 03-03-2014 I reached Poland for the very first time. It was brilliant. The most beautiful town I had ever seen in my life, including the towns I had seen on TV. I also posted the picture of the birds in Krakow's river Vistula. I wasn't then, I am not even now, a good photographer so please excuse me. [fb_pe url="https://www.facebook.com/nashrockshere/posts/10202622943568607:0" bottom="30"]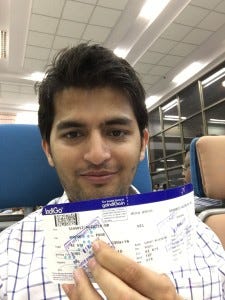 At Ahmedabad Airport 2 years ago my life took a turn towards what eventually would be an extensive European tour. I could never forget it and I never want to. However, there are other reasons as well why today's date is significant. I am right now sitting at Ahmedabad airport waiting for my flight to Pune, I am going to meet my bros Karan and Utkarsh. Karan, Utkarsh and I lived in an apartment in Pune when all of us were working there and we became the best of friends. Everytime we get a chance we plan a reunion and party like the old times. I am so excited to go to Pune, possibly you can sense it on my face. One more friend Pranav is going to be there. Can't wait to punch him in the face before I hug him to greet. Meanwhile, today I met my college friend after 6 years. She and I had a lot of good times during college, I used to visit her place to eat home cooked meals and I loved it. I also caught up with my best friend Shirin again today for a couple of hours and then had dinner with my lovely sister. We didn't have time for a new Dubsmash video but I have one ready to be uploaded soon. I am waiting for few days before I upload it. Overall it was an interesting and exhausting day. The moment I get in my plane, I will be off to sleep and wake up on touch down in Pune. That's it for Day 21. Do not have much time as I have to board now. Next update tomorrow. Let's see if we can make some videos in Pune.
---
Day 22 - Pure Fun
The only thing to remember from Day 22 is this: [fb_pe url="https://www.facebook.com/webkaran/posts/10153923524121635" bottom="30"] And this: [fb_pe url="https://www.facebook.com/nashrockshere/posts/10207636663028460" bottom="30"]
---
Day 23, 24, 25 - More partying
I have been constantly spending all the time outside the house, watching movies, watching India's cricket matches, resting, making videos while injuring ourselves and partying really hard, I hardly got any time to open my laptop and write something. On top of that, there is just way too many power cuts in Pune which makes it impossible to be constantly connected to the internet. This is however a reckless behaviour on my part, because I promised myself I will write everyday and I am unable to. I guess I will be in better shape once I am back home. Right now, technically, I am on a vacation with my friends in Pune and hence I can cut myself a slice. The past 3 days were full of eating out at all the places we loved to earlier at Pimple Saudagar, FC road, MG road, KP and Bund Garden. It also included watching Deadpool and Zootopia, 2 very different genres. Yesterday was India Vs Bangladesh cricket match, Asia Cup 2016 final and India won. We were at a sports bar and the energy was out of this world. unfortunately, we left before the match was over, because the bar was closing and they stopped taking food and beverage orders. That last cold coffee from a nearby cafe kept me awake till 3 in the morning. Today, begins a new work-week when people are going to get back to work and I will enjoy my break by watching movies and shows for the next 5 days until Friday showers it's blessings on us. Karan and Pranav left for Delhi today so it's just Utkarsh and me in Pune from the old gang. Now I will be catching up with my other friends and it may be good news because now I might have a partner to go to clubs with, they do not allow stags here and I despise it. Let's see how the rest of the week turns out to be. Cover Pic: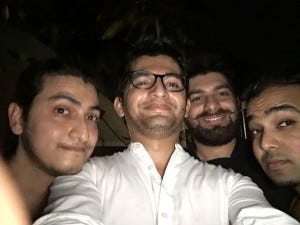 That's it for this diary. Check out Day 26 to Day 50 now. Leave your views in the comments below.