Discover more from Naimish's Personal Blog
Blogging my mind off!
Daily Diary - The log of my life - Day 51 to 75
Update: I do Video Logs now. Check out my VLOGs at https://www.youtube.com/c/finallyjoblessvlog  This is the 3rd Diary post of mine to be used for the next 25 days' log. If you wish to read about my previous days please click on the below links: Days 1 to 25 Days 26 to 50 Day 51 to 75 are on the post, but feel free to skip directly to any post by clicking on the links below or read it all from the beginning till the end. Don't forget to leave your comments! Day 51 - Ahmedabad again to meet my sister Day 52 - Finally Some Dubsmash Day 53 - New Story Day 54 - Long Story Day 55 - The shopping Day 56 - Making of the new Channel Art Day 57 - The Inspiration Day 58 - I am in Indore Day 59 & 60 - No Internet, and Tiger Safari Day 61 - Panchmarhi Sight seeing and Para Sailing Day 64 - Home and back on road again Day 65 - Fully relaxed Day 66 and 67 - Mumbai and back Again. Day 68 - Another Video Day 69 - Youtube Bootcamp Program Day 70 - New Video in Works Day 71 - Another Wedding Day 72 - A mother's wrath Day 73 - A big mistake Day 74 - A good and a bad moment  Day 75 - Every end is a new Beginning
---
Day 51 - Ahmedabad again to meet my sister
02-Apr-16 Day 51 begins. My cousin stopped by for lunch today, then we went to Ahmedabad to drop off his grandma at his uncle's place and meet my sister. Vidhi hands over her bags that we were supposed to bring back home, joins us for dinner and somehow I convince her to come back with us to our home. So here we are back home a little after mid night and planning to make dubsmash videos tomorrow. I am so excited. Talking about videos. My 50 Day Journey Video was received positively by so many of my friends. Everyone is wishing me good luck and congratulating me. It's amazing. I love it. I think this is the best motivation I have ever received. Now, next stop is making sketches. I have some plans in my mind. I am also working on a project for the 100th day video. You know how they say, well planned is half done. I am following the advice. So stay tuned guys, a lot of more blogs, stories and videos are coming. I am thrilled and excited. 750 views in 1 day. 90 new users tuned into FinallyJobless.com and blessings from my friends, I am on cloud 9 today. I will work as hard as I can to make Finally Jobless a success. See you tomorrow.
---
Day 52 - Finally Some Dubsmash
03-Apr-16 Vidhi came home yesterday and so did my cousin Ronak. We created some awesome Dubsmashes today and I am right now editing it for uploading tomorrow. I have to learn to add links at the end of it for more videos. It will be fun to learn. My parents are not here today so it's the 3 of us cousins and hence I can stay up late today. My parents don't say anything if I am up late but I feel bad when they give me that look which says "You are useless". So, stay tuned for more Dubsmash. Have a look at this video I uploaded on instagram today. https://www.instagram.com/p/BDuuW8eSb2U/
---
Day 53 - New Story
04-Apr-16 I spent hours thinking about a video to make. Made numerous attempts, even did not go downstairs to play and yet I could not prepare of even finalise one video. Hence I gave up on the video and decided to focus on the purpose of this website. Blog. Rather than writing a blog now, I decided to write a story. The story somehow turned out to be really long and hence I decided to break it into 2 parts. The first part is written and is waiting to be published but I won't do it until I have the perfect end in my mind. Let's see how it goes. This is the dubsmash we prepared yesterday. https://www.youtube.com/watch?v=ZerjIgWSBpI On top of all this, today with my parents not in town we had to go for lunch outside. The best part of the day was not having to wake up early. We spent our afternoon post lunch in packing. Vidhi and Ronak left to their respective towns Ahmedabad and Surat and I was all alone in the house. Then I tried to make the video and failed sadly. That's it for today. See ya tomorrow.
---
Day 54 - Long story
Yes, now I have the idea of the story I want to write. I still do not have the perfect ending in mind but I started writing the story. Problem: The story is too long. From building characters to bringing in a romance to making the characters fight for their life, my story "The Inescapable" became way too long for a short story. I am guessing it would be a little more than 10000 words. So here we are, Part 1 and Part 2 are now written and edited. Part 1 will be published tomorrow and part 2 in the following week. Similarly, part 3 and 4 will be published on subsequent Thursdays. Honestly, I am banking a lot on this story. It's still a teenage drama with too less detail for a quick read. The writing is nowhere close to a feature novel but I gave it a shot nonetheless. I need more people to tell me where I am going wrong. I want to improve myself and get better and better. I am really hopeful this story could bring in some audience and critics. We will find out, starting tomorrow. Here's the promotion I posted on my page the next day. [fb_pe url="https://www.facebook.com/finallyjobless/posts/246546855695399:0" bottom="30"]
---
Day 55 - The Shopping
I went shopping today. As much as men pretend or even tend to hate it, unlike them I love shopping. I love to go on weekdays though because that's when you don't have to see a 100 other people trying out the same outfit that you want to buy. It just hurts. I went shopping today. Now, for the past 2 years I honestly did not worry about the price of things I bought to an extent, I am not stupid to buy a pair of jeans worth 5000 INR, and I never was. However, I wouldn't bother to buy one that costs INR 3000. I didn't mind getting a suit tailored for 15000 as well while I was earning in Euros. However, today I was worried. I loved a pair of blue shorts today. They were fitting well, comfortable and elegant. I looked at the price tag and it was 3200 INR. Who the hell spends that much money on shorts? Maybe the same people who earn in € & $. I just realised I do not have the rupee symbol on my laptop, but that's the problem for some other day. Anyways, I did not buy these shorts and bought the ones worth 1600, half the price, yet expensive for sure. Being Jobless is fun, relaxing and therapeutic but it's also an opportunity to learn to spend money judiciously. Our parents always teach us about it, and we tend to get angry about it and say that they have no fashion sense. I realised today that the purpose of my shorts wasn't to show that I am wearing an expensive one, but to look good while I am wearing shorts and while I have skinny legs like chicken. It takes guts to go out in public in shorts when your legs are so thin, they don't need an X-ray to check for fracture. Yeah, so after 55 days, the first real lesson of my life being jobless: "Spend Money Judiciously". May be I will make a video about it. Alright an hour to go before it's 7th April and my new story goes live. I am very excited. Hope people like it and demand for the next part. See ya.
---
Day 56 - Making of the new Channel Art
Yes, I have a new channel art for youtube which took me 3 hours to design and build. However I did one mistake. I forgot the font I used and hence it's pretty much non-reusable. However I will keep it the way it till a need comes up for a new one. Check it out.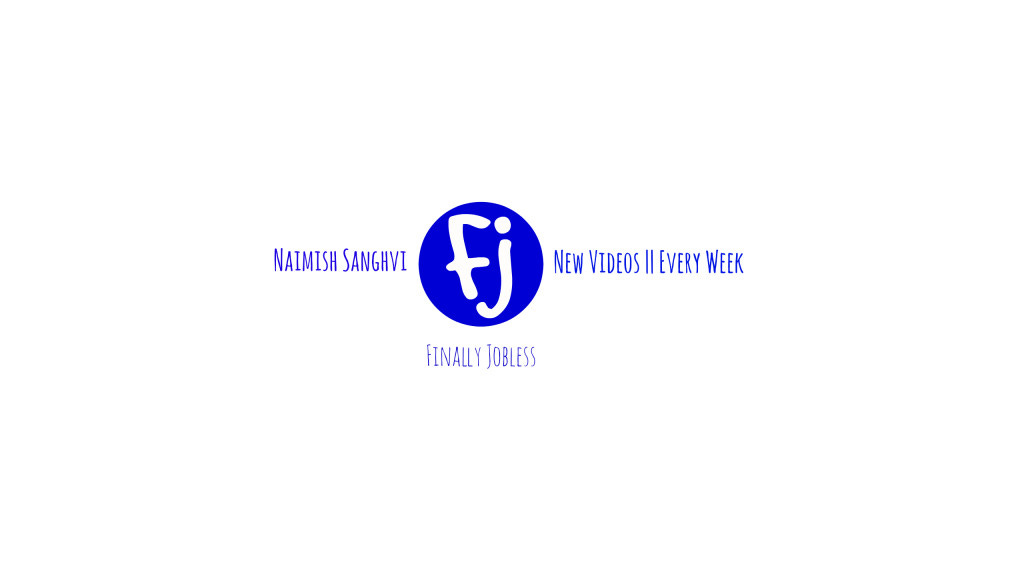 This is the whole image... However, if you are on Youtube it will look like this: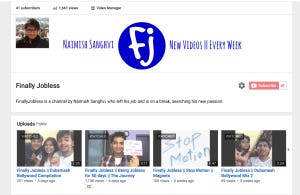 Youtube Channel.. Click to Subscribe So that's pretty much the only productive thing that I did today other than reading feedbacks on my story by so many friends of mine. There are so many issues with the technical details, the sentence formation isn't right, etc. I will try to incorporate the changes from the feedback into the next part but for now I am happy that atleast 35 people read the story. That's it for Day 56.
---
Day 57 - The Inspiration
Sneha Sharma, my friend of Infosys. We were talking a few days back about the life of being Finally Jobless and all. She told me her wish to start writing again. She took a break from work, waiting to start her MBA, and meanwhile she did what she wanted to do, Start a blog. What's interesting is that in her first blog, she mentioned me. She did. This is her blog Mind Booger and if you are reading my daily diary log, please go to her blog and check out her first post, it's very well written and for grown ups, completely different than mine, I write for everyone but like a teenager. Oh no no no, I am not feeling bad about being called an immature writer, not at all. I have embraced that now. I think that is always going to be the style of my writing and I love it. Ofcourse with experience it will change but for now, I love it. If a teenager today can relate to my content, they might end up doing something much better than being a corporate labourer. I realised something today, this is my content, my work, and I would accept every comment given to me, but I will only change what I feel appropriate. I am not supposed to be perfect, your perfect doesn't have to be someone else's perfect, so I will prepare my imperfect content and keep improving it till I strike the right chord which may or may not be accepted by a lot of people. If I can inspire people to write, or even follow any dream, I will do it my way, not in the perfect way. This lesson comes from 3 people who told me they are inspired by me, but only Sneha acknowledged it in public which gave me a moral boost. Thanks a lot Sneha, you are the inspiration.
---
Day 58 - I am in Indore
I woke up early today, at 7 AM. We left home around 8:45 AM for Indore. We begun our week long trip to another state of India, Madhya Pradesh. I botched up the trip right from the beginning. We were supposed to take the route through Kukshi to go to Maheshwar and I took a completely different route which was terrible. We ended up on a road so bad I still have pain in my lower back from the drive. Nonetheless we reached Indore. I haven't visited a single temple in 3 years and today, I visited 3 temples. The architecture of temples always mesmerises me, I just love it. Some are made of marbles and they have really pretty and amazing carvings. One of the temples I saw today had it's interior completely covered in glass, it's called 'Kanch Mandir' - Temple of glass. I couldn't take any pictures as it wasn't allowed and google is not giving good pictures as well. So, I recommend come to Indore have a look yourself. Tomorrow we leave for ______ will tell tomorrow. Good night. I am really tired.
---
Day 59 & 60 - No Internet and Tiger Safari
Imagine yourself being right in front of a river and across the river is a forest, you are going to be there early morning 5:30 AM to spot the tigers on a Safari, exciting isn't it? Great view, great plan, and so much to look forward to. It is exciting, however there is just one problem. You are completely off the grid. Your phone is only useful as a camera, there is no cell network at all. Is it still exciting? Perhaps for you, because you might long for a day away from internet and calls so no one can disturb you. It wasn't no exciting for me. I am not an addict, I did not have to scratch my arms and bang my head on the door fighting without internet like an addict, I just had to go to bed at 9 PM. However, the reason it wasn't exciting is because Internet and social media is an important part of my life. Social life is the reason I am happier than ever. I don't need validations from my social friends on anything, I don't need approvals as well, I need social network to tell people what I am upto or to see what people are sharing. There is no off button on Facebook which can be dangerous, but people can still control it, however staying completely away from it is not the best option. A lot of people tell me they got annoyed and quit, but I do not see a point. You are in a technologically advanced age, and you want to go primitive again?  You don't need to tell people when you use the bathroom, but you should tell them when you are engaged or married or buy something or eat something interesting, or read about something amazing, you can practically share a lot of stuff which can either motivate people or make them jealous. Making people jealous of your achievement can have it's own advantages as well, but let's not dwell into that. I will give you a simple example, if I am going to share the picture of a leopard I saw today, it is bound to stay in the minds of the people and the next time they want to plan a trip, atleast one person will say "Let's go to Satpura, I remember someone saw a leopard there, it seems like a nice forest". You might think I am talking bull shit, but it's simple subconscious psychology. Anyway, this is a diary, not a blog, so no need to give a philosophical lecture. I am in Panchmarhi now. We are going sightseeing tomorrow but for today I bought internet from hotel to atleast write my blog and access Facebook, also change the channel name on youtube. Now, go to https://www.youtube.com/c/finallyjobless or https://www.youtube.com/finallyjobless and you can access my channel. I will share the pictures once I am home, the internet is okay for download but terrible for uploads. Good night.
---
Day 61 - Panchmarhi Sight seeing and Parasailing
It's Day 61 and I am in MP's one and only hill station Panchmarhi, a laid back, non-foodie town which has waterfalls, temples, and some spots where you need to trek, much like any other hill station. It began with a trip to Jata Shankar, a nice 300 step descent to a temple of Lord Shiva. There are 12 spots visible in the mountains which resemble either an animal or a God. There is also a man-made idol of Shiva and Parvati where honestly in my opinion Godess Parvati is pretty scantly dressed. Well, if a woman wears something like this, men of this Indian society will have a bit of a problem, but nothing wrong in worshipping a Goddess who's only part of upper body covered is her chest. Anyways, not here for a moral lesson but once you see the picture you will understand. Unfortunately the internet still sucks, and I can't upload the pictures just yet. Next stop was B falls, or Bee falls. Apparently when the water falls on you, it stings like a bee, hence the name for the falls is Bee falls. Amazing Time I had there. I also uploaded a picture on instagram, strangely the internet there was good enough to upload one picture. https://www.instagram.com/p/BEF_XzJybxl/ Then we went to see some more caves, temples, etc and also went for Parasailing. I realised today that I cannot run. When you are landing you are supposed to run so you don't fall, and I fell. It didn't hurt as I had all the protective gear on, but it was an embarrassment when the guys there said "Sir, you can't run".  I should be telling the story with pictures so please bear with me till I am home and I upload the pictures. See ya!!
Day 64 - Home and Back on Road
---
3 days of terrible internet, and finally I was home on Day 63 but could not write or do anything as I was really tired. Hence I am writing today, while I already am in Surat, at my cousin's place. Day 62 was an 11 hour drive to Maheshwar and Day 63 can be summarised in this vine. https://vine.co/v/itbjulw5FQM I am now with 2 little cousins, Krishika (0.5 y old) Riyanshi (2.5 y old) and the chaos is sometimes unbearable but they are so much fun to be around. Riyanshi does not speak Gujarati, she can only communicate in English hence a lot of our family members have trouble understanding her. We spent the past week teaching her some Gujarati and she's a quick learner so now she can understand a lot. Day after tomorrow, I travel to Mumbai for a friend's wedding. I am really looking forward to it. The part 2 of my story is out as well and thankfully I had scheduled it earlier to be published on the 14th April. I had no internet access that day and I wouldn't have been able to publish it. Now, I know I don't have a great audience base but whatever I have, I love them. Those odd 15-20 people who read my story, they made my day. Shirin, shared my story on Facebook on the 14th and the only time I had the slightest access to internet on that day, I managed to share my own story from Shirin's post. Stay tuned, a big surprise is coming soon. Here's a teaser: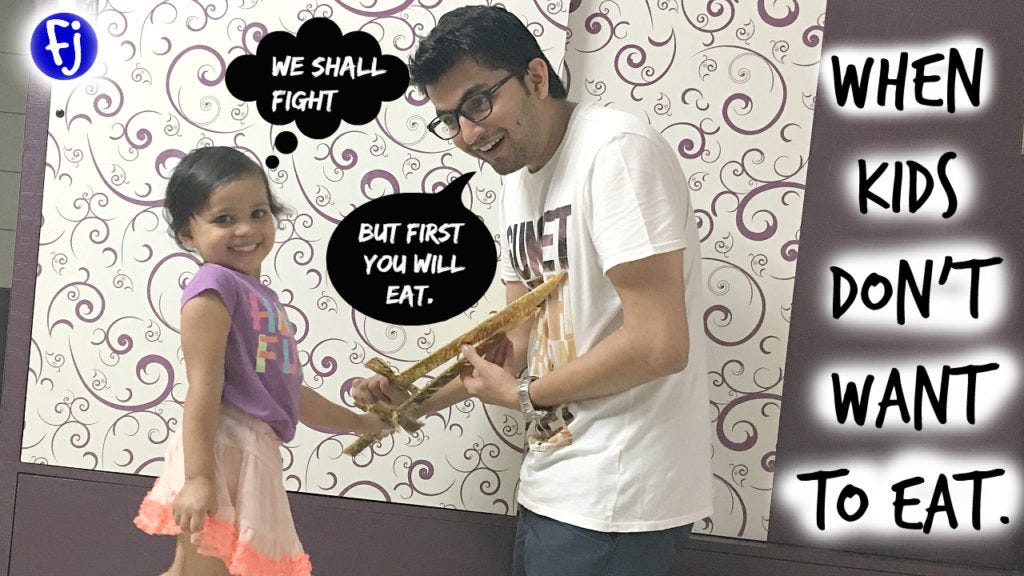 ---
Day 65 - Fully Relaxed
All I did today was share the new video I made and write a new blog. It was stress free day in Surat and I am excited to go to Bombay tomorrow. Hurray!!! I think you should read the blog and watch the video, I have nothing more to say for today. Relax!! https://www.youtube.com/watch?v=cnOID7c8q6Y
---
Day 66 and 67: Mumbai and Back Again
Yes, I went to Mumbai to attend my dear friend and former colleague in Deloitte, Ganesh Iyer's wedding reception. I am kind of bummed that I could not go to Ranchi to attend my College buddy Gaurav's wedding which was on the same day, 17-April-2016 (Day 66). Anyway, So there I was at the wedding, met a few colleagues from Deloitte from our project team, congratulated Ganesh, took some pictures, had dinner and went back to my hotel. Overall Day 66 was pretty cool. The problem: No Freaking Internet. It is becoming so annoying to find internet these days. No one gives importance to internet, absolutely no one in India I believe. Here a picture from the reception: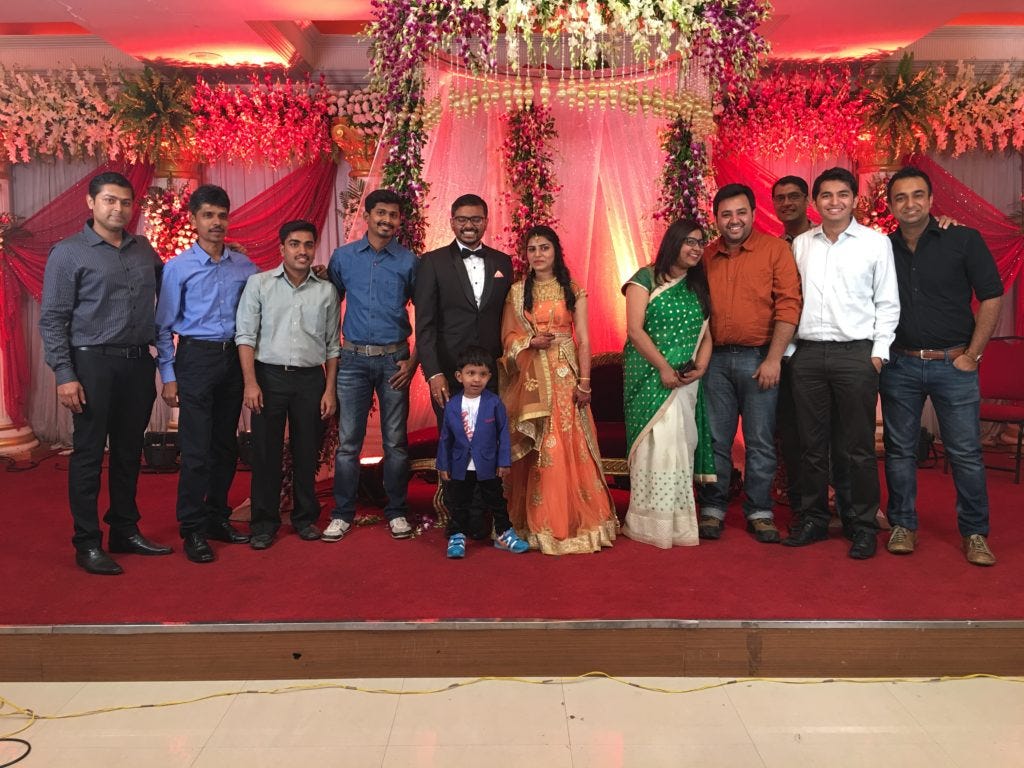 Day 67 was pretty awesome as well but I got fried in the heat of Mumbai. It was so hot, I probably could have filled buckets with my sweat. As gross as it is to imagine, I lived through the pain. I met a friend of mine Saurabhi and surprisingly I forgot to take a picture with her. It is sad and bad on my part. Nevertheless, we will meet again some day and I will not forget to take a picture. I came back to Vadodara, my dear home around 9:30 PM and almost crashed on my bed. I had to attend a get together tonight before another friend of mine bites the dust and gets married, I did not go because, well, I am really tired. That's it for today. See you tomorrow.
Oh and yeah, I shot a video in Mumbai. Coming Soon.
Teaser: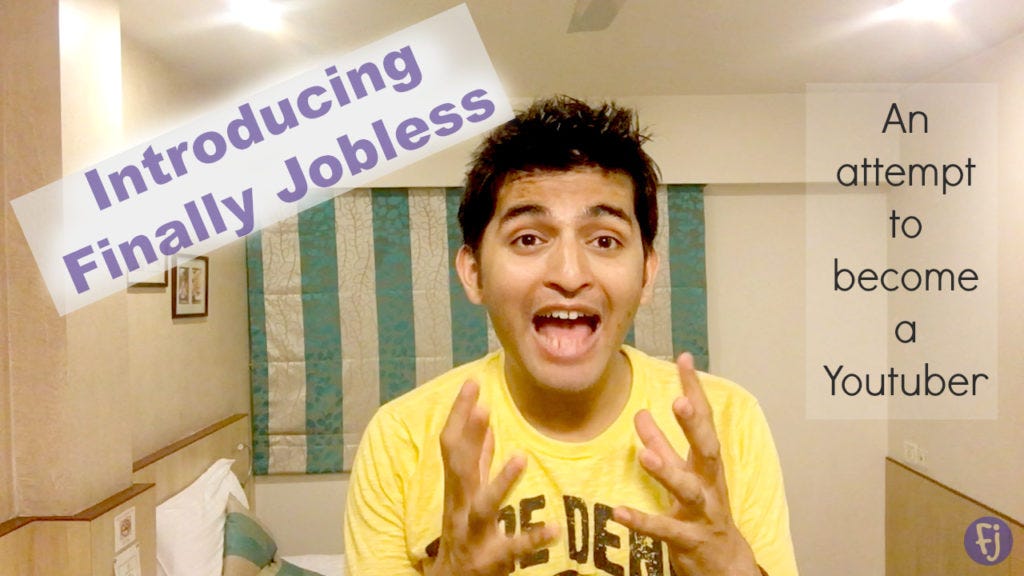 ---
Day 68 - Another Video (19-Apr-2016)
It's just impossible for me to keep my video unreleased. I must learn to be patient. I decided to not release the video till Friday, but I could not wait, and the video is now posted on youtube. Although I haven't shared the video yet because I personally think that I could have done a lot of things better. So, I will directly share the second video with people on Facebook. Anyhow for the people who are reading this, here's the video: https://www.youtube.com/watch?v=leke3qE4nAM
---
Day 69 - Youtube Bootcamp Training (20-Apr-2016)
Yoo hoo, Bootcamp program begins. Well, I enrolled myself to the Bootcamp training program of Youtube titled "Foundations for Success". So, I went through a couple videos today and read a few things on and off Youtube. Finally it dawned on me that it's so difficult to be a Youtuber. It's not easy to spread the word, or make people like you, or just prepare interesting content week after week. Nevertheless, I am free and have all the time in the world so I will keep doing it and keep improving on it. I have plans to collaborate with other Youtubers in future, and some of my friends as well. Will see how it turns out. About the diary, I have decided to stop writing a diary after day 75. The purpose of the diary was to see how cool it is to take a break from work, but I think I haven't really documented anything that could significantly motivate a person to leave the job, take a break, and do something they love. While I am living my life and noting it down, I am not sure my diary is connecting with people that much. Hence, I will plan out something different and get back on it. For now, it's the last 6 days before it's shut down. Maybe I will try Video logging or VLOG. Indians are camera shy, and I will try to break the stereotype and stick to my theme, do something different, well different in India and tried and tested in the western world I mean. Alright that's it then, see ya later. Bye!!
---
Day 70 - New Video in Progress (21-Apr-2016)
Okay, I attended a pre wedding celebration today of one of my School buddy, and danced like a crazy idiot. Now, I am in pain, unable to move my legs much and sleepless. Tomorrow is his wedding, I am not sure how it will be but from today's party, it seems like it's going to be epic. I have spent past 2 days in building up an idea and shooting for a new video. By tomorrow end of day, I will have my new video ready to be posted on Youtube on Monday. I have to religiously post a new video every Monday for the next 1 year, only then I will have a loyal fanbase and subscribers. However, everyday I have to remind myself that I need to be patient and I should not feel bad about getting no views or subscribers for my video. In a few days I think I will be coping up with it. Probably the prospect of being able to collaborate with other people is going to keep me driven till I finally collab with 2 of my fav Youtubers iiSuperwomanii and Connor Franta. I would also enjoy a collab with Miranda Sings. All these day dreams, they keep me awake all night. Anyway, here's the teaser for the new video: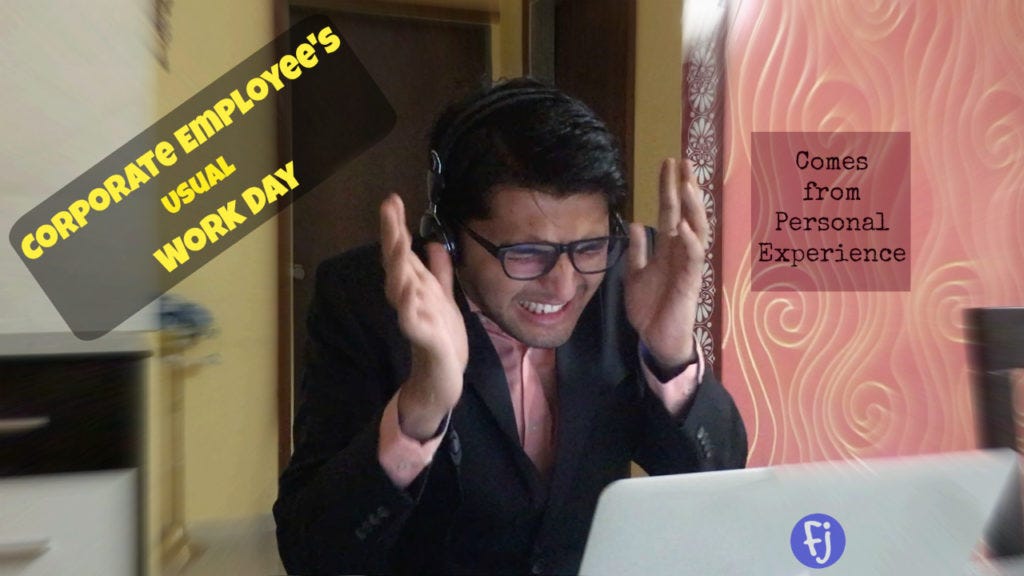 ---
Day 71 - Another Wedding (22-Apr-2016)
Confession: I am writing this on Day 72 (23-Apr-2016 at 2:00 PM). Yes, another wedding. Sumit Singh got married. He is my friend from school and I met him a few days back after 10 years. I also met Dhawal, Kushal, Pratik and Shreyash for the first time after I left school. I feel old now, people are getting married, having their own business, having jobs, and doing all sorts of Grown up stuff while I am here trying to reverse the cycle like Benjamin Button. My wardrobe is full of Summer shorts and T-shirts that kids wear in college, I am making videos and writing blogs, what kind of an Indian leaves his job and makes videos? The Finally Jobless kind. This is what I day dream about everyday, a talk show host interviewing me and saying this about me. Maybe it will happen someday. You never know. It was good to catch up with everyone after so long. Everyone told me they watch my videos and read my blog. That's a freaking achievement. I could only smile and say thanks but secretly I want to just hug them and say "You are my true friend". I am glad they are not reading this diary because if they see this, I will be made fun of for eternity. I don't have many pictures from the wedding, but here's one I took with my headgear: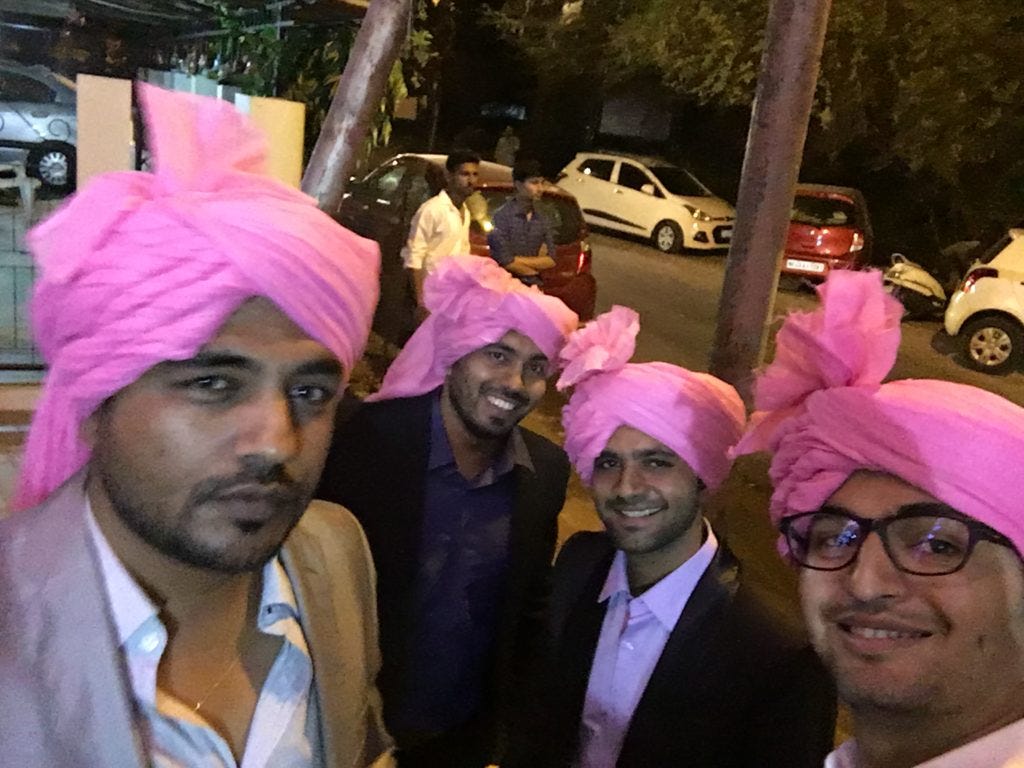 From left: Kushal, I forgot, Dhruv, me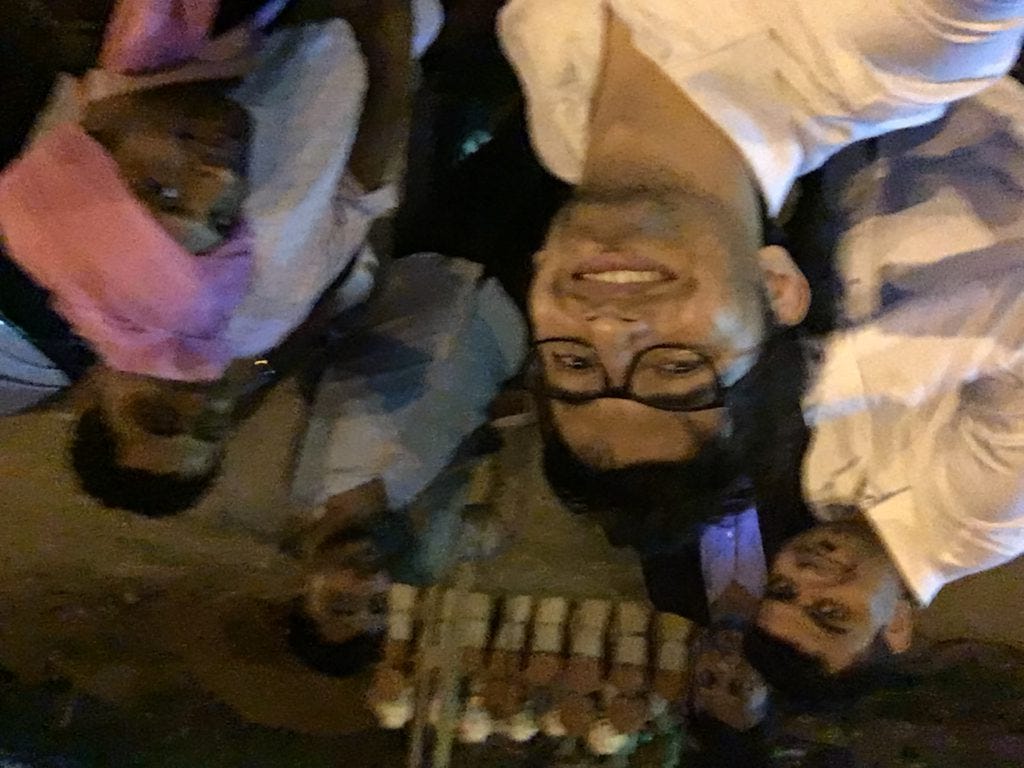 Another gem of a selfie
---
Day 72 - A mother's wrath (23-Apr-2016)
I have to start writing these things on time. I am yet again one day late. It's Day 73 already, and I can see the clock ticking at 16:00, maybe a little less. Anyway, Day 72, a Saturday was going pretty much like any usual lazy day I've been having lately. However, when I was downstairs playing the game "Satodyu"  with others from the building, I got hit on the face by the ball. Thank God I was not wearing my glasses yesterday. Sometimes things just turn out in your favour even when you don't expect them to. It didn't hurt, it's a ball made of clothes, how bad can it hurt anyway? While it did not hurt me, it did leave a dirt mark on my face, because the ball was dirty of course. I think I am writing like I talk on my videos now.  I picked up a water bottle and splashed some water on my face to clean off the dirt, that's when I saw her. My mother was walking towards me furious at the world for hurting her little child. I wanted to fuse the situation as soon as possible and the best way I thought I can have it done, is by talking to her before she could talk to anyone else. I looked at her and asked "Why are you coming here?", like any normal person asks anyone who wanders into places they never have been before. This ticked her off. Later when we were talking about it, she told me that had I said "What happened?", she would have been okay, but how dare I ask her why was she there. Honestly, I could never have imagined it. I just normally asked her why was she there, and that was it, end of story. She turned and walked back to her group of ladies after I told her I am okay. Now, I stood there oblivious to anything at that very moment, I wasn't aware she was angry at me, I wasn't aware that socially I had made a grave mistake of speaking back at my mother, and I wasn't aware that she thought I was lying to her and that I was really badly hurt. Imagine your own mother won't believe you when you say you are not hurt. What is wrong with the people around me, is it so hard to believe the truth? A minute later, the bunch of uncles sitting there asked me to go talk to my mother because they noticed she was angry, I did, and I still had no idea that she was pissed. I went to her in my usual unfunny humorous way and shouted "I'm 27. You don't need to check on me like I'm a little kid". If you were in my situation, you probably wouldn't have done that, but it's me. I have a knack for getting in trouble and shouting things like these to the world so that they talk about me when they are back at home. It's just the way of gossip, "OMG That Naimish keeps bragging about how old he is, and how he is jobless, and how he is enjoying". Deep down in my sadistic little mind, I have a secret desire to be the topic of every gossip taking place anywhere. If Lucifer was to ask me what is my secret desire, I swear to him, I wouldn't say a word differently. Whether good or bad, I don't mind being made fun of behind my back, do it in front of me, and I will probably have a come back for you in a few days, if I am offended, and if I remember I was offended, and if I remember what was it that you said to me. I prefer forgetting conflicts than leading them on. I'd probably write a story or make a video about it, but I would never ever take offence. I've been called a lot of things in my life, and if I had a dollar for every name given to me, I'd be able to buy a house for me. The sad part is that while I am like this, most people aren't. Sometimes, your closest friends become strangers because you might have said something to them by mistake. You don't get a second chance. Getting back to point now, as soon as I reached my mother after calling out my age and appropriate behaviour I expect from her,  she didn't look at me, she didn't say anything, and she ignored me like any cute girl ignores me in shopping malls. Sorry mom for comparing you to them, I couldn't come up with a better analogy, I get ignored by them all the time. So, I came back and sat down with my group hoping for an epic showdown once I get home. Then after an hour I went home. There she was, sitting there in her bedroom with my father. To my surprise it went down pretty well. I explained to her that while the ball hit me, I was washing my face not because I was hurt or bleeding but because my face was just dirty. She told me that she hates that we play this game and that we are a bunch of idiots who do not care about our health and body and that we are mindless people who should not be encouraged and that she show this as an opportunity to shut down the game immediately but I did not let her and finally she said that she will not look at us play anymore, she will sit facing the other side. She said this all without even being angry about it or shouting about it. Not sarcasm, it's true. My mother was calm as a cucumber once she found out that her little baby wasn't hurt. Anyway, I learnt one thing yesterday, if I see my mom coming at me, I should just shut up and run. Let others do the talking. I ain't getting involved anymore. I do write like I am acting on my video. It's dumb. Guys, if you are reading this, please ignore the fact that it's written like a youtuber's screenplay and read it for fun. Also, do let me know if there are any spelling mistakes or grammar mistakes. 3 more days till the Vlog begins.
Day 73 - A Big Mistake (24-Apr-2016)
I noticed today that my Youtube channel name is Naimish Sanghvi, instead of FinallyJobless. Then I realised that it is connected with my Google Plus account so I logged in and tried to change my name back to Finally Jobless. Well, you cannot change the name on your google account for next 3 months after you have changed it thrice. I may have changed my name 3 times after experimenting the channel names and now I cannot reverse my channel name back to Finally Jobless. There are other ways to reverse it back, but then I will lose the link to my channel which I have shared everywhere. The link www.Youtube.com/FinallyJobless. However, this was pretty upsetting for the day but I have decided to always look at the positive, so the positive thing about today is I am all set to upload my new video. I am going to call Mondays as #JoblessMonday from now on. A new video on every JoblessMonday. It's going to be so much fun. Let's see how people react tomorrow.
---
Day 74 - A Good and a Bad Moment
Good: I uploaded my video and it has 150 views already, which is lesser than the first 50 day jobless video I made. However, this is my creative side and sooner or later people will begin to like it. However, what I must stop doing is shoving down the videos through the throats of my friends. If I only text them with video links, eventually I will lose them as friends but it's just a simple thing, I want them to not only watch and appreciate it, I want them to share it, promote it, but usually people don't do that. They will promote things from pages, but from friends, it's slightly unlikely. So, fingers crossed. Bad: An argument with mom broke up today. There are times when she tells me something and I counter it which is when she tells me "use your brain and think about it". She is right, if I put a little thought into it, it would make sense, but the problem is that I can't. I am just that way. If I see something that I don't understand straight away, I like to ask about it. While not only my mother, some of my closest friends have told me to use my brain a lot of times, I can only apologise to them. I am not that smart when it comes to sarcasms and hidden meanings. I do not understand conversations that are incomplete or deemed understandable. I need a detailed explanation of everything you are asking me to believe. Some people are just like that, why is it so hard for others to accept it? This is what I was telling my mother when I got emotional. I was about to get up from the table and leave but I didn't, mostly because I didn't want the argument to continue, and I also did not expect them to understand.
---
Day 75 - Every End is a New Beginning
Alright, we are here and it's the time to end the blogging of daily diaries. I haven't yet decided on whether I will start the VLOG or not, but I do have a channel already made for that. I spent Day 75 in Treat Resort, Silvassa with my cousin Ronak, his wife Yesha, their infant daughter Krishika and Yesha's brother Jigish. https://www.instagram.com/p/BErXFqHybxI/?taken-by=finallyjobless It was a great trip and terrible internet. I also did not take my macbook with me so I didn't update the log there. I really miss my laptop everywhere I go, I need internet, I need my breathing source to survive anywhere I go. I used up a GB of 3G data while on the trip. Some people might say you need to spend time with family, nature and some other things like this, but to be honest, I do all that and beyond that I need my phone, my macbook, and an internet connection so that I can zone out from all that is around me and go to my little happy place called the internet. Anyway this is goodbye from me for the daily log and hopefully you will see me on Youtube with a VLOG everyday. This is the channel: https://www.youtube.com/c/finallyjoblessvlog   Bye!!!!