Discover more from Naimish's Personal Blog
Blogging my mind off!
For their wedding Gift, I got my friends some Cryptocurrency
A very wise man once told me "In Marriage you both resolve issues together that you wouldn't have if you were single". I have to wait until my marriage to test the theory.
When my college best-friend sent me an invite to his wedding, I found the perfect gift to give the newly-wed couple. Something they can do together. Solving a puzzle of sorts and redeeming the money.
Unlike the money-making media websites, I am not saving the punch line for the end. I gave my friends Omisego tokens as their wedding present.
You can read further to know how the story unfolds.
The friends:
Viral Bhatt my college roommate, classmate and the dearest friend throughout all 4 years of my Bachelors degree in Engineering called me to give me the good news. Mr. Bhatt is the person who my parents wished I was like. Although he is no Sharmaji-ka-ladka, he caused quite a stir everywhere being the Bhatt-sahab-ka-beta.
If I'd ask a girl out, they'd say they like Viral and would like to go out with him instead. Baba, as we aptly called him would ignore the request to focus on what was more important - Studies. A distinction holder throughout, Viral Bhatt had quite a reputation in and outside college.
It was later after the bachelors that Baba got the hang of other aspects of life like watching English premiere league. That's it. Still no dating, still no alcohol, still no meat. Baba remains a baba right now, well until tonight - the wedding night. *wink wink*
Second from right in the front row is Viral Bhatt aka Baba. Circa - 2007
The Gift: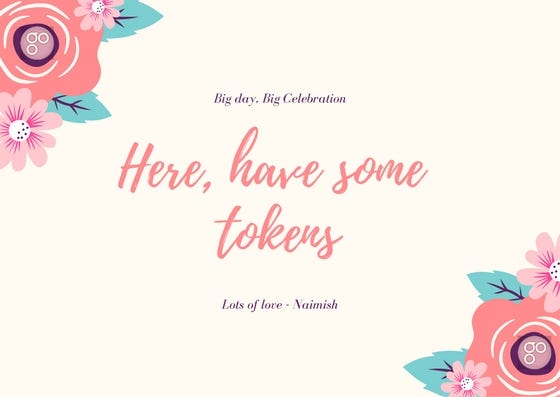 How's this card for the lovely couple?
Gifting has never been my strong suit. I always prefer gifting books over stuff and chocolates instead of flowers. Flowers die. Things get lost. Stories from the book stay with you forever. Not everyone appreciates books-as-a-gift though.
So in the quest to find something innovative to gift I went around the planet, on the internet, literally asking people across the globe for gifting ideas. Not one seemed like a good one. As I said, baba is the modest of men but the gifting ideas not-so-much. Someone recommended gifting Condoms, seriously.
Then it struck me. How about educating the 2 of them about cryptocurrency? Something I can gift them that could very well be their first task together as a couple, you know, after standing for 500 people at the wedding reception, eating food, pose for photographers, etc.
Yes, that too would happen before opening presents.
Alright maybe the first task that requires them to be focused, would be crypto-related. I'll take that. I bought a few Omisego tokens on Coindelta, transferred them to a new MyEtherWallet - wallet. I also added 0.002 ETH to the wallet for the gas for when they wish to transfer the tokens.
Took a print-out of the paper wallet, a set of instructions, and wrote a personalised letter wishing them the best for the future.
The Puzzle to solve together:
For a crypto-trader it isn't a tough task to sell these tokens, but since Baba and his bride are not quite acquainted with crypto trading, the instructions are wait-for-it the puzzle.
Although straight forward it still requires them to complete more than 10 steps as mentioned on the Instruction Sheet before they can cash out those tokens. A couple, just married, planning their life will complete a daunting task together. This is a gift to bring them closer.
Once the tokens are transferred, they can go ahead and begin trading.
How's this for a title: Couple gets Omisego tokens as Wedding gift in Nadiad, Gujarat?