Discover more from Naimish's Personal Blog
Blogging my mind off!
Why I Couldn't Care Less For Justin Bieber's Tour!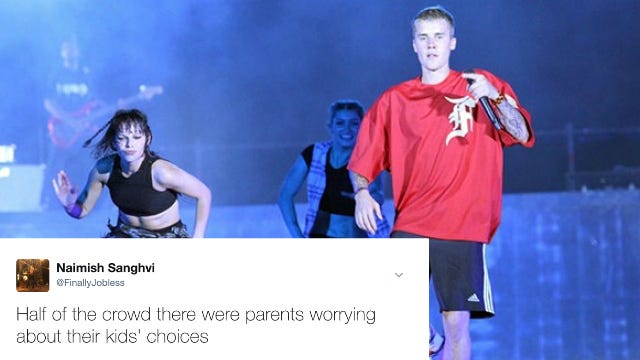 Justin Bieber Performing In Mumbai
Mind you, I had my reasons to not attend the show even before it happened. I didn't know he was going to come in shorts, didn't even know he was going to Lip sync and I definitely had no clue he was going to fly away so soon.
I love Justin Bieber's songs, absolutely adore them. Have probably listened to "Sorry" more than a 1000 times. But when it comes to his #PurposeTourIndia, I don't give a Mouse's buttock.
Here are 5 reasons why:
1. It's a weekday and I'm an employee:
Although people took leaves to know why oh why Kattappa killed Bahubali, I don't think anyone would want to skip work day and go all the way to DY Patil stadium to watch Bieber, he's a child, he sings. That's it.
2. I can't handle kids:
It's a known fact that majority of the Beiblers are teens and pre-teens. Grown ass man like me don't fit with them. They are loud, maniacal and use cellphone flash lights. I mean what happened to the lighters?
3. I really don't have money:
Although the tickets started at 4K per pop, I don't think that's the money I'd want to spend to stand in the middle corner among 45000 fans. Hey watch him on YouTube like a normal adult.
4. He's Justin Bieber and he's got attitude:
Alright, not only him but why would any star care to shake hands with me or even talk to me? So why even bother going to see him in person?
5. I'm an adult
This is the most important one. As an adult I know the difference between the struggle of seeing your idol from a distance and the joy of watching him on YouTube while sipping a cold one on the couch.
Look, I've attended concerts, Albeit smaller ones. I got stampede in one and my buddy's phone was stolen in another. But yes, if I had 76k lying around, I'd spend it to see that Canadian pop icon upclose. Otherwise nope. Not for me.
It's Jockey - all or nothing for me.
Hey Jockey, I'll wait for you call.
Here's some more fun I poked at that poor guy on Twitter, alas! no one cared though. Not even one retweet.
Half of the crowd there were parents worrying about their kids' choices #JustinBieberIndia

— Naimish Sanghvi (@FinallyJobless) May 11, 2017
Hey Gotta give it to Justin He came Just-In Ghar wale kapde #JustinBieberIndia

— Naimish Sanghvi (@FinallyJobless) May 11, 2017
I didn't even attend the show and I had so much fun.

oh. Right...#JustinBieberIndia — Naimish Sanghvi (@FinallyJobless) May 11, 2017
I don't get why people are mad about Bieber's lip-syncing...

He's a just a kid who loves Dubsmash — Naimish Sanghvi (@FinallyJobless) May 11, 2017
Mumbai has named a road after #Justinbieber

It's called JB road Look it up #JustinBieberIndia — Naimish Sanghvi (@FinallyJobless) May 11, 2017
I'm gonna end my Bieber rant with #Sorry

Get it? No? Sorry #JustinBieberIndia — Naimish Sanghvi (@FinallyJobless) May 11, 2017
-Naimish Sanghvi
[blog_subscription_form]